Restream Review! Can I MultiStream On Different Platforms At Once?
Restream review: The booming live streaming technology offers so much more than just immediate communication with the viewers. Audiences watch live streams on social networks and gaming sites as much as they are viewing it on subscription-based platforms. Consumers don't think TV is essential anymore. Only 42% of people still have their cable subscription to watch TV. Live streaming also has room for newcomers — some very popular platforms are just now joining the game.
The best way to take advantage of the things that make live streaming great is to stream to multiple platforms at the same time. When it comes to multistreaming, there is no better solution than Restream. Here are seven main reasons you need to use Restream for your next multistream.
1. You can go live in minutes: Restream
Live streaming is all about breaking down barriers. You don't need to have a production company to create and broadcast your live show. You don't even need to have any professional-grade gear to be able to stream online — you can start live streaming with nothing but your webcam. Thanks to Restream, you don't even have to live stream to one website at a time, because you can multistream.
But we've gone a step further in making multistreaming simpler and more accessible. Thanks to our Restream Studio, you can start live streaming to multiple websites in minutes with nothing but your browser and a webcam. And that's not even the best part. With Restream Studio you get:
Customized live streams with your own graphics (overlays, logos, and backgrounds)
The ability to use captions — add call-to-actions or other important messages
A chat window where you can monitor what your viewers are saying
Streaming with multiple participants – invite multiple participants from all over the world directly to your live stream
PRO TIP: use graphics in your live streams
The fact that Restream Studio helps you get in front of your audience quickly and with no unnecessary steps doesn't mean it provides a barebones experience. If you've prepared some visuals to add to your stream, for example, Restream Studio will help you easily use them.
You can, for example, use a background for your stream and let the viewers know you're about to go online. Or you can display a logo when you think it's time you step up your branding game. With an overlay, you can always have a graphics layer over your stream. And if all you want is to add a call to action to your video, you can do that by using captions.
2. Support for over 30 platforms: Restream
How many streaming platforms can you count? YouTube and Facebook have their own "Live" services for live video streaming. Twitter and LinkedIn have also been doing their own live video services as well.
But then there is Twitch for gamers and other content creators. Not to mention, that both YouTube and Facebook have the gaming category as well. There's Vapers.tv for vapers, Picarto.tv and Mixcloud for artists, VK.ru for people who live in the CIS, and AfreecaTV for South Korean streamers. But that's not all.
There are many different places where you might want to multistream. It makes sense to choose a multistreaming service that supports streaming to the platforms where your audience likes to watch live video content. Restream.io supports more than 30 platforms. It's hard not to find at least a couple among them you'll need.
Today is your day! This special promo code gives you a 7-day trial with all Restream paid features. It's free! Custom graphics and more streaming options for your live video production needs. The promo code comes with a little bonus — a 25% discount on your first upgrade. 😉 ENJOY 25% OFF! The first 7 days are on us.
👉 Here is your promo code link.
PRO TIP: a solution for the platforms It doesn't support
In case there's a specific platform you need to multistream to, but it isn't supported by Restream, don't worry. There's still a way you can use Restream services to stream to other channels as well as the one that's not supported.
Custom RTMP is the Restream service that allows you to use Restream with any platform. You'll need the RTMP URL and the stream key provided by the platform, then you're set to go. Someone who is still new to streaming, however, will probably find everything they need in the free Personal plan and the supported channels.
3. Monitor your streams in real time: Restream
No matter how important it is to analyze performance data after you've finished a live streaming session, it might be even more important to have that same data available to you during the live stream. If there's something wrong with the quality of your stream, it's better to fix it as soon as possible than lose viewers.
Thanks to the Restream Monitor, you can have all the data you need during the stream available to you at any time. You can see your current bitrate, keyframe interval, frames per second, and dropped frames, as well as the video and audio codec you are using. These parameters can prove to be invaluable.
.
4. Awesome multistream analytics
One of the digital world's favorite adages — content is king — is applicable to live streaming, no matter how many channels you stream to. However, it's equally important to have a way to understand how your audience interacts with your content. Actually, it just might be that analytics should be king together with content.
It wouldn't make sense to use a multistreaming service that doesn't provide you some analytics. Restream, for its part, gives you a lot of very useful data points you can use to analyze your content's performance.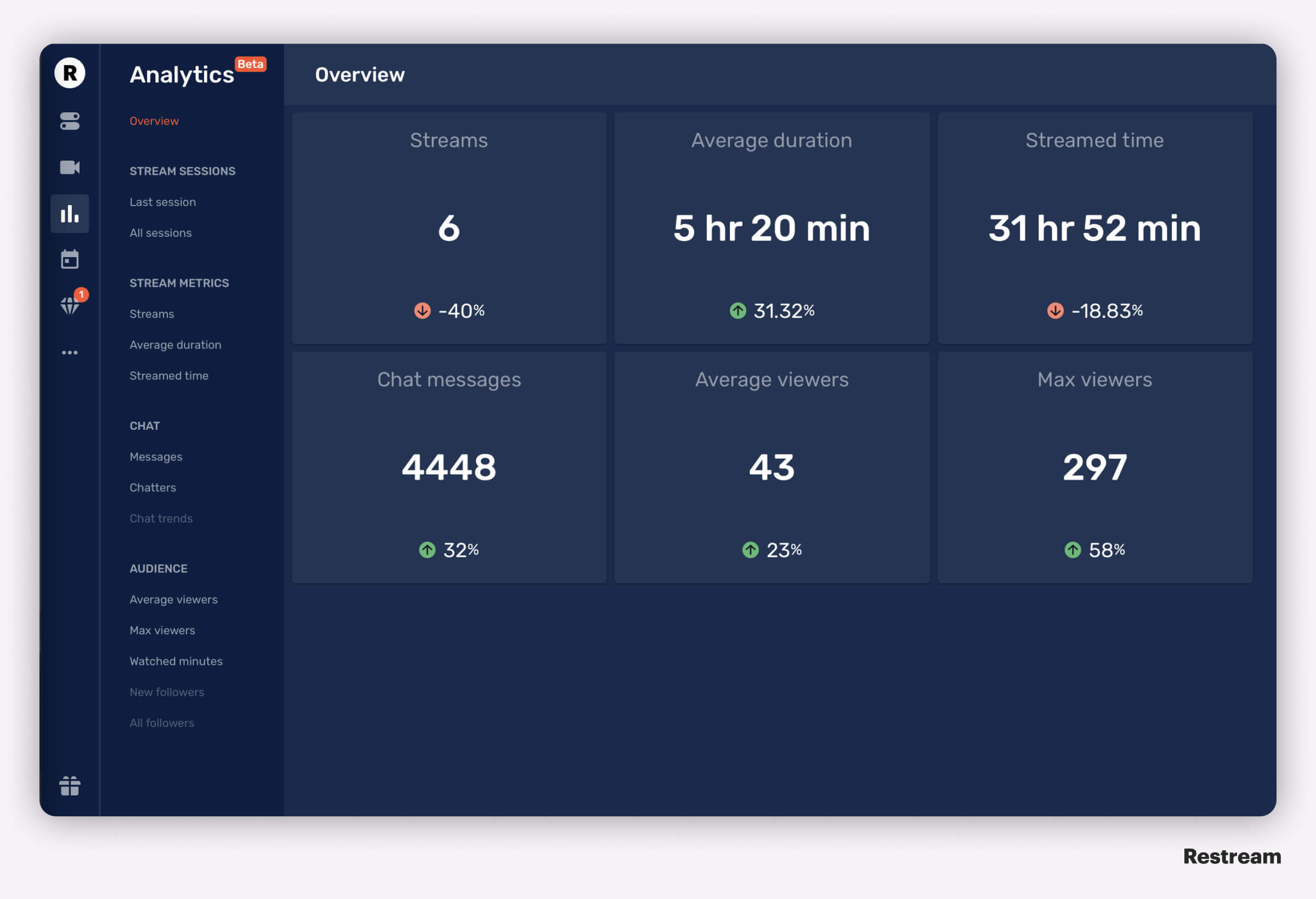 From showing time spent streaming to identifying the number of average users, chatters, or chat messages, as well as peak activity, Restream analytics is the perfect tool to get actionable insights into how your content resonates with your audience.
5. Unlimited streaming time, unlimited bitrate
Ideally, you want the decision on how much time to spend streaming to rest on you. If you want to stream as much or even more than your competitors, or as long as it takes to finish a game of cricket or baseball or deliver an inspired sermon, that's a decision that should be only up to you.
If the platforms you choose allow it, the multistreaming services you use shouldn't cap it. Well, Restream doesn't. It lets you choose how much time you want to spend streaming.
Speaking of things Restream doesn't cap, it's also useful to have unlimited bitrate. There's no reason to have to choose between quality and quantity — with Restream, you can have both. Just make sure you're not compromising your streaming health.
6. Streaming of pre-recorded video with Restream Events
Live streaming is for live content, right? Wrong. You can live stream content you have previously scripted, practiced, recorded, edited, and improved with effects. You get all the benefits of being able to produce content at your pace and then stream it live to a waiting audience.
This is another awesome aspect Restream allows you to accomplish. Restream Event is a tool that lets you schedule and stream content at any time you like. Furthermore, it allows you to notify your viewers about your upcoming live stream, whether it is a pre-recorded video or a live show.
It's very simple. First, you create the video you want to stream. Then you upload it to Events and choose the date and time for broadcasting the content live. That's it! You can watch your content as if you were an audience member, or you can focus on engaging with your audience via chats.
Easy live streaming for everyone Run professional live streams from your browser. Get Started
7. Handling multiple chats in one place
The words "engagement" and "live streaming" are often used in the same sentence for a good reason — live streaming is great for audience engagement. Just think about it. Someone watching you could chat with you, and you could react to their words in real-time, while they are watching. That's the awesome immediacy of live streaming, and it has a lot to do with live chatting.
But if you plan to stream to multiple channels at the same time, how do you prioritize which audience you'll chat with? It can be very difficult to keep up with a single chat if you have a decent number of viewers. Juggling two, three, or four chats can be next to impossible.
Restream has a solution to that problem, too. It's called Restream Chat. It simplifies chatting while multistreaming by showing all the messages in the same window. Anyone who has ever had difficulty staying on top of multiple chats will know how useful that is.
Conclusion
Restream has a lot to offer to anyone interested in live streaming, especially if they plan to multistream. With all the features listed here plus a dedicated 24/7 live support team available to all users and visitors to the site on top of it all, it simply has everything you might need to multistream.
Recently, however, Restream took a further step to make multistreaming available to people of all levels of technical proficiency and access even to the most basic gear. Restream Studio is a solution that can bring multistreaming to everyone keen on giving it a go. It's easy to use, effective, and hands down the quickest way to get your live stream in front of audiences on multiple streaming platforms.
_______________________________________________
Disclaimer: Some of the links in this article are affiliate links that may provide me with a small commission at no cost to you. However, I have vetted every program in this guide and believe they are the best for generating affiliate revenue. You can read my full affiliate disclosure in my privacy policy.