Shift4Shop Official Review
Shift4Shop (formerly known as "3dcart") is one of the internet's oldest e-commerce software platform suppliers. In fact, they've been in business for over 20 years, which is longer than some of their primary competitors combined! However, being elderly isn't necessarily a good thing, and this is especially true in a fast-paced industry like ecommerce. Indeed, we look at how good Shift4Shop's ecommerce platform is in 2021 in our Shift4Shop review.
The following is a summary of our Shift4Shop review: Shift4Shop is an easy-to-use ecommerce platform that is free (for US-based business owners) or moderately cheap (for store owners outside the US). Shift4Shop's ecommerce templates are not the flashiest, but they can be great for selling a lot of different products. Shift4Shop is easily one of the top ecommerce platforms of 2021, based on its features and solid foundation. Go to Shift4Shop for more information.
Who owns Shift4Shop? In November 2020, a payments firm called "Shift4 Payments" purchased the ecommerce platform known previously as 3dcart and now as "Shift4Shop." Shift4 Payments is a publicly traded company on the New York Stock Exchange with a market capitalization of about $7 billion at the time of writing. Given these factors, it's reasonable to believe Shift4Shop is incredibly safe and secure.
Others' Shift4Shop (3dcart) reviews summarised: The platform's most commonly noted advantages appear to be its ease of use and affordability. In terms of Shift4Shop's potential drawbacks, it's worth noting that there have been some complaints about SSL certificates and third-party payment gateway integrations (comment: one can assume that the integration with Shift4 Payments works very well). Go to Shift4Shop for more information.
Important information to keep in mind when creating your Shift4Shop account: Shift4Shop, at least in my experience, does not prompt you to choose a username and password during registration, but instead generates and emails them to you.
Do you want to learn more about Shift4Shop? Our complete Shift4Shop review may be seen below.
.
,
How easy is it to use Shift4Shop?
.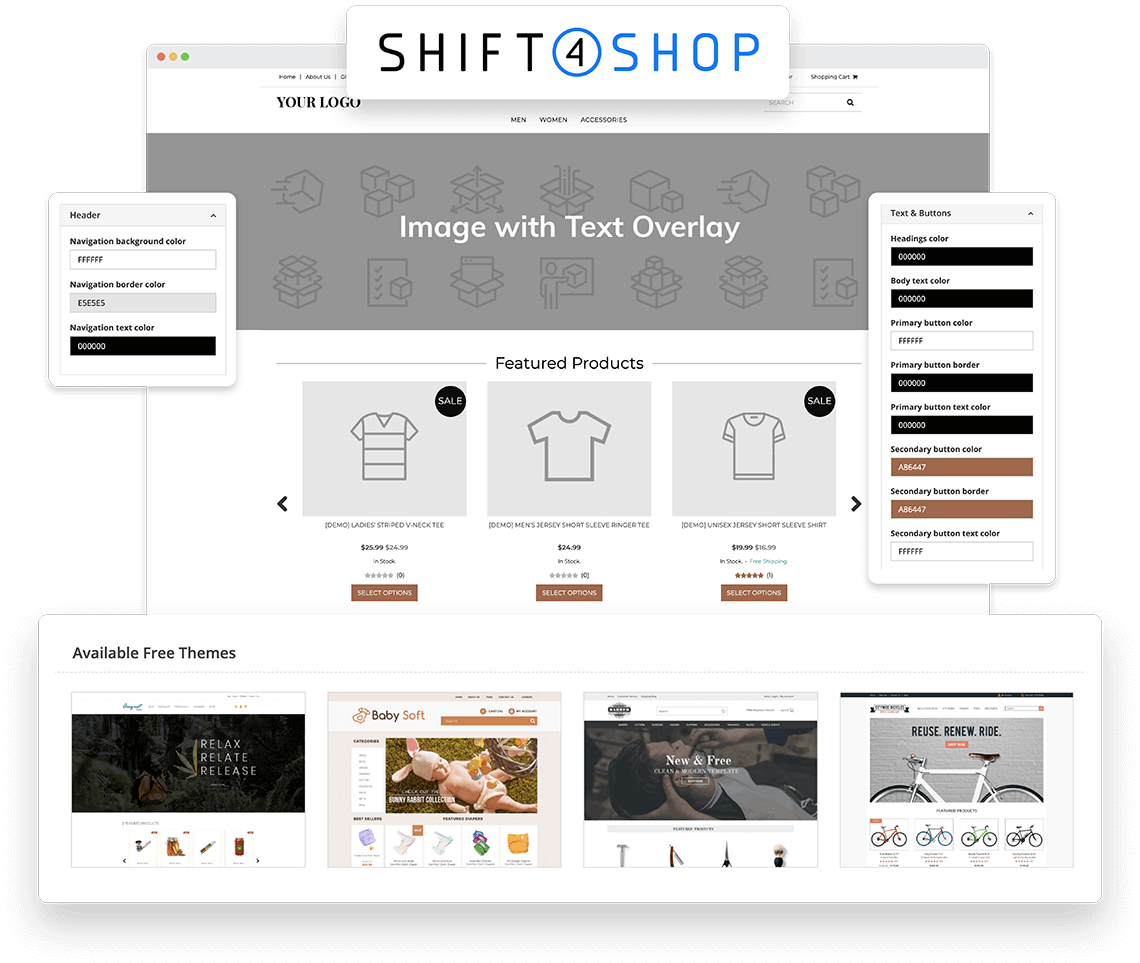 .
To answer the above question in a single word, exceedingly. Shift4Shop has put a lot of effort into building the back-end of the e-commerce platform in such a way that it can be used by anybody to start an e-commerce business.
Adding products to your store, selecting a theme for your e-commerce firm, and deciding which payment methods to give your consumers are all simple tasks. Furthermore, what I appreciate about the Shift4Shop store builder is that there is nothing superfluous – nothing that will cause you confusion while you develop your business.
Shift4Shop is easier to use than BigCommerce and nearly as easy to use as Shopify when compared to its key competitors (searching for a comprehensive Shift4Shop vs Shopify comparison? See this page for further information.
.
Shift4Shop themes & templates in 2021
.
Since Shift4 Payments took over the ecommerce platform now known as Shift4 Shop, one of the finest things they've done is making all of the store themes/templates free. That's because the pricey Shift4Shop themes may previously cost up to $199.99 each.
Shift4Shop also appears to be introducing new store themes. And, in my opinion, this is a good thing, because some of the older themes are so antiquated that using one of them could actually decrease your conversion rate.
While the new Shift4Shop themes are an upgrade over the old ones, it's important to remember that they're not suitable for all types of stores. Because Shift4Shop themes are largely focused on showing a wide range of products on your homepage, this could be an issue if you don't sell a lot of different products.
If you only want to offer a few different things, Squarespace or Zyro ecommerce would be a better fit, as their theme aesthetics are the polar opposite of Shift4 Shop's.
When it comes to actually using the Shift4Shop themes, it's nice to know that it's simple to try out different options, and that Shift4Shop's themes adjust to different screen sizes automatically. The latter implies that your clients may easily purchase items from your store, regardless of whether they are using an ancient computer or a sophisticated smartphone.
At the time of writing, Shift4Shop has 110 free themes available. Shift4Shop can be a particularly good alternative for people wishing to construct an online store on the cheap, thanks to its large range of free themes.
You can use a theme from any category for your store, even though Shift4Shop categorises its themes by categories like "Art," "Fashion," and "Electronics."
.
Regular Shift4Shop plans and pricing
.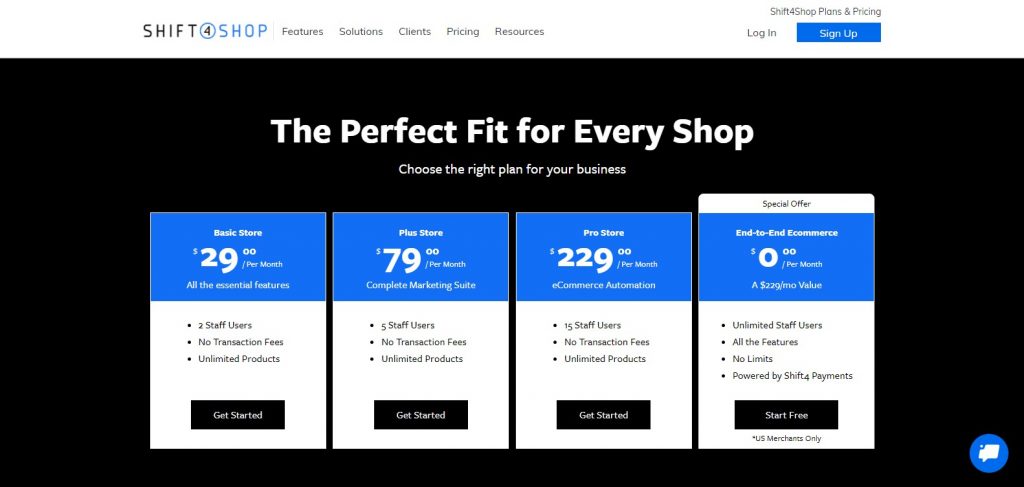 .
In 2021, Shift4Shop will provide three different regular programs for regular store owners (in addition to these they also have, for example, an enterprise plan). The cheapest Shift4Shop plan is "Basic Store," which costs $29.00 per month when paid monthly, and the most costly regular plan is "Pro Store," which costs $229.00 per month when paid monthly.
All of Shift4Shop's regular plans have decent features (for example, the ability to add an unlimited number of products to your store), and because switching plans is simple, it might be a good idea to start with a low-cost plan and upgrade later if you require more features than your current plan provides.
Update on the $19/month plan: Prior to becoming Shift4Shop, 3dcart promoted a $19/month package dubbed "Startup." That package isn't listed on Shift4Shop's pricing and plans page, although it appears that overseas clients can still select it when creating an account. However, it's probable that the plan won't be available for long.
.
Free plan
.
Shift4Shop offers a free plan dubbed "End-To-End Ecommerce" in addition to the regular premium plans. Despite being free, this plan is the most advanced Shift4Shop plan in terms of functionality. The reason it's free is that customers who choose this plan must utilize Shift4 Payments as their payment method. "Shift4 Payments" being the payment company that owns Shift4Shop.
It's worth noting that, while the End-to-End Ecommerce plan is free, Shift4Shop charges a transaction fee of 2.9 percent + 30 cents on each sale you make with it. That cost is the same as what Shopify charges its $29/month customers. As a result, the transaction fees charged by Shift4Shop can be considered to be relatively reasonable.
Unfortunately, at the time of writing, the free Shift4Shop plan is only available to retailers based in the United States.
.
Dropshipping plan
.

.
Shift4Shop includes a specialized dropshipping plan in addition to the programs mentioned above. This plan can be a good method to get started with e-commerce for many people, with rates starting at $9.99/month when paid on a monthly basis and going even lower (per month) when choosing a longer subscription. However, because the free Shift4Shop plan also allows for dropshipping, those in the United States would be advised to opt for the free plan over the dropshipping plan.
You can learn more about the dropshipping plan on this page if you're interested.
Note: Shift4Shop's plans (other than the free plan) have a sales limit
The fact that all of Shift4Shop's ordinary plans have a sales cap could be a disadvantage. In effect, this means that there is a limit to the number of online sales you may make in a year before being upgraded to a more expensive plan. The Dropshipping plan has a $10,000 restriction, the "Basic Store" plan has a $100,000 limit, the "Plus" plan has a $250,000 limit, and the "Pro" plan has a $1 million limit. Surprisingly, there is no sales cap on the free plan.
.
Shift4 Shop app store
.
One thing that many people don't realize about ecommerce platforms is that they usually feature an app store where you can find plugins to help you improve your store. One of the ecommerce platforms with an app store is Shift4Shop.
The number of app integrations available through Shift4Shop isn't vast right now, but it does include some helpful apps like Printful. Connecting an app to your Shift4Shop store is simple in my experience.
.
Shift4Shop's customer service
.
Shift4Shop's customer service, in my opinion, is excellent: they provide customer assistance via live chat, for example, and when I used it, I received informative and pleasant service within a few minutes of asking my query.
.
Frequent improvements
.
Because ecommerce is so competitive and continually evolving, it's critical that ecommerce platform firms make periodic upgrades and updates to their platforms. Shift4Shop may easily be the greatest ecommerce platform in 2021 when it comes to update frequency: they appear to make many upgrades every month.
.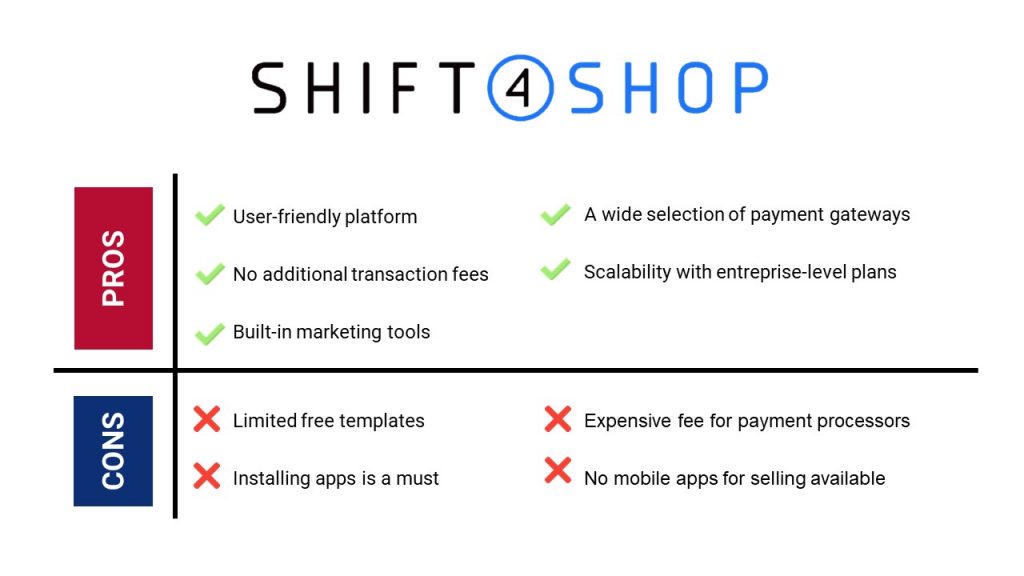 .
Questions and answers about Shift4Shop
.
Do Shift4Shop plans include a free SSL certificate?
Yes. Shift4Shop claims that all of their plans include a free SSL certificate. An SSL certificate is typically seen as a symbol of security by online customers, and the existence of one can make them more likely to buy from a site that has one. In practise, you can check if a website has it by looking at its URL and seeing if it begins with http or https. The latter indicates the presence of an SSL certificate.
Does Oberlo work with Shift4Shop?

Oberlo is the most popular dropshipping app on the market. Unfortunately, it does not appear to be compatible with Shift4Shop at this time. Because Shopify, Shift4Shop's competitor, controls Oberlo, this is most likely the case. Shift4Shop, on the other hand, should be compatible with a number of other excellent dropshipping apps.
Does Shift4Shop work with 3rd party payment gateways?

Yes. According to Shift4Shop their platform works, for example, with Square, PayPal, Klarna, Stripe and many more.

.
Is there anything I need to download in order to utilise Shift4Shop? No, you can use a web browser to manage your Shift4Shop store. That means you should be able to manage your Shift4Shop store from any computer with an internet connection. As a result, using Shift4Shop is similar to utilizing, say, social media.
.
.
POPULAR POSTS