Puerto Vallarta, Mexico: The Complete Travel Guide
You know those locations where you go for a day and wish you could remain forever? One such location is Puerto Vallarta, Mexico. This lovely hamlet near Banderas Bay is one of Mexico's most popular tourist destinations and with good reason. Puerto Vallarta is a wonderfully gorgeous site, with the Pacific Ocean on one side and the Sierra Madre mountains on the other. Add in the lovely church with its tree-lined plaza and the Malecon, a gorgeous promenade, and you've got one attractive city.
While Puerto Vallarta welcomes boatloads (and planeloads) of visitors and has several all-inclusive resorts, the city takes pride in its traditions and culture.
On a stroll around town, you might witness a cowboy riding his horse along the cobblestone streets, or a mariachi band serenading guests on the beach.
Many people come to Puerto Vallarta to relax on the lovely beaches, but the city offers much more than sun and sand. You can also go hiking, snorkeling, mountain biking, fishing, and even skydiving!
You'll be planning your return trip before you even leave because there's so much to do here.
POPULAR GUIDES
I arrived in Puerto Vallarta a few years back with the intention of staying for a month. I fell in love with the place, just like so many others before me, and decided to stay.
Despite the fact that summer isn't the ideal time to visit Mexico, I've visited Puerto Vallarta in the offseason and had a fantastic experience. For the past two years, it's been my home away from home.
In this complete travel guide, I'm thrilled to bring you to Puerto Vallarta, Mexico.
Where to Stay in Puerto Vallarta Mexico
When it comes to lodging in Puerto Vallarta, Mexico, you have a lot of options for such a small city.
I'm going to concentrate on the real city of Puerto Vallarta and its various neighborhoods for the purpose of simplicity. These are the places to visit if you're heading south from the airport:
Marina Vallarta
Hotel Zone
5 de Diciembre
El Centro
Zona Romantica
Here's a short description of each neighborhood with a recommendation for one of the best places to stay there:
Marina Vallarta
The Marina is where Puerto Vallarta's cruise ships dock, and they're now building a spectacular new cruise ship port.
There are numerous excellent all-inclusive resorts in this area, as well as a world-class golf course. It's a popular destination for families and people looking for a little peace and quiet on their vacation – something that might be difficult to find in Puerto Vallarta!
San Tropico is a charming boutique hotel in the Marina, set in a garden with an outdoor pool. It's not far from the beach, and bikes are available if you don't want to walk. On Booking.com, you can discover more about this hotel by clicking here.
Hotel Zone
The Hotel Zone, as one might think, is densely packed with hotels. Isn't that a clever name?
Massive resorts line the beach, but crossing the main road takes you to a more residential area with plenty of shopping and dining options.
Suites Mar Elena in the Hotel Zone is a nice alternative if you don't want to go all-inclusive. At a moderate price, you'll discover comfortable accommodations and an outdoor pool. On Booking.com, you can discover more about this hotel by clicking here.
5 de Diciembre
The "5th of December" area in Puerto Vallarta, Mexico, is a fantastic spot to stay. It's mostly a residential region located between the Hotel Zone and Centro, but there are some good options for lodging here as well.
This is a great area to stay because it's close to the beach and public transit.
Casa de Chayo Boutique Hotel is a lovely hotel with stunning views of the ocean. They go out of their way to make you feel welcome during your stay. On Booking.com, you can discover more about this hotel by clicking here.
El Centro
This is, as the name implies, Puerto Vallarta's core district. The lovely Parish of Our Lady of Guadalupe, the main square, and the Malecon may all be found here.
El Centro also has some of the city's top retail and dining alternatives. This is the place to stay if you want to be right in the middle of it all.
Luna Liquida is a good option if you're looking for a beautiful location to stay in El Centro. This well-appointed hotel is just a few streets up the hill from the church, and its infinity pool offers some spectacular views. On Booking.com, you can discover more about this hotel by clicking here.
Romantic Zone
You enter the Zona Romantica after crossing the river from El Centro (Romantic Zone). Despite its moniker, this neighbourhood isn't just for lovers.
There are numerous lodging alternatives as well as numerous cafes, spas, restaurants, shops, and bars in this area. It's undoubtedly the most enjoyable area of Puerto Vallarta to visit, with plenty of exciting nightlife!
In the Romantic Zone, La Casa del Descanso is a good choice. This tastefully decorated B&B is in a fantastic location for exploring everything the area has to offer. To see the most up-to-date price on Booking.com, click here.
If you're booking a hotel, you might as well get some rewards points. Below
are the top rewarding hotels to choose from (All free to join):
Best recommended travel luggage
The greatest travel luggage must be attractive, functional, and customized to the needs of today's nomads. A good travel experience, no matter how big or small, requires functional design, high-quality materials, and efficient, adaptable packing space.
Check out this awesome collection of travel luggage and handbags from Titan. These are pretty much the strongest luggage I've seen so far. Below are a few samples.
Best recommended airlines and travel agencies
Nowadays there are many websites that can help you book your San Diego itinerary. I have picked the most trusted ones (including airline carriers) that I personally find very convenient, and they all offer great rewards on flights that enable you to get free flights in the future using your points.
Below are my favorite airlines rewards programs and booking agencies, which you can use no matter where you're traveling from: (All give you rewards when you sign up for free)
What to Do in Puerto Vallarta
There is lots to do in Puerto Vallarta, from beach hopping to adrenaline-pumping experiences to sampling the local cuisine and nightlife. It was difficult to reduce this list down, but here are my top five PV picks
1. Walk the Malecon
The Malecon, which runs from El Centro to the Romantic Zone, is a seaside promenade. It's roughly 1.5 kilometres (1 mile) length and ideal for a leisurely stroll.
You can observe the outstanding collection of sculptures in addition to the stunning views of palm trees swaying and surf smashing. So you know what you're looking at, pull up this guide on your phone. You can also join a free walking tour of the Malecon every Tuesday at 9:30 a.m. from mid-November to mid-April.
It's almost time for the Dance of the Flyers if you hear the sound of a flute. This ancient Mesoamerican ceremony involves a group of men spinning through the air from atop a 30-meter pole and is quite the sight! That's not all; along the road, you'll find artists selling paintings and portraits, cultural events in the little amphitheatre, and a variety of shops, bars, and restaurants.
2. Soak Up the Local Culture
The colourful culture is one of the many reasons I adore Puerto Vallarta, Mexico. There are many opportunities to soak in the local culture when you visit, from the hardworking street food vendors to the roaming mariachi bands to the many events that take place here.
The neighbourhood around the Parish of Our Lady of Guadalupe is a fantastic spot to learn about Puerto Vallarta's culture. First and foremost, the church is the city's most distinctive emblem, and it is simply stunning.
The Plaza de Armas is located in front of the church. This is Puerto Vallarta's main square, and it's a popular gathering spot, especially on weekends and evenings.
Throughout the year, Puerto Vallarta hosts a variety of entertaining events. Mexican holidays and festivals, such as Independence Day and Day of the Dead, are quite popular, as are various types of festivals – music, sports, art, food, and so on. In fact, one of the best things to do in Mexico is to immerse yourself in the culture.
3. Go for a Hike
While relaxing on the beach is enjoyable, Puerto Vallarta is also an excellent location for hiking. You won't have to travel far because the town is constructed on a hill.
There are a few short walks you may take in town. The Cerro de La Cruz (Hill of the Cross) is a short walk upwards from the Malecon. It takes around 20 minutes to climb the stairs to the top, where you will be rewarded with spectacular panoramic views of the city.
Another wonderful option is the climb that connects Boca de Tomatlan with Las Animas beach. For ten pesos, you may take a bus from the Romantic Zone to Boca, cross the bridge, and walk along the ocean. You'll pass by a few lovely beaches that are practically empty along the route.
You'll eventually arrive at Las Animas Beach, where you may treat yourself to shrimp tacos and a drink. When you're ready to leave, simply take a water taxi back to Boca and board the bus. It's a quick day excursion from PV that's a lot of fun!
4. Explore Isla Cuale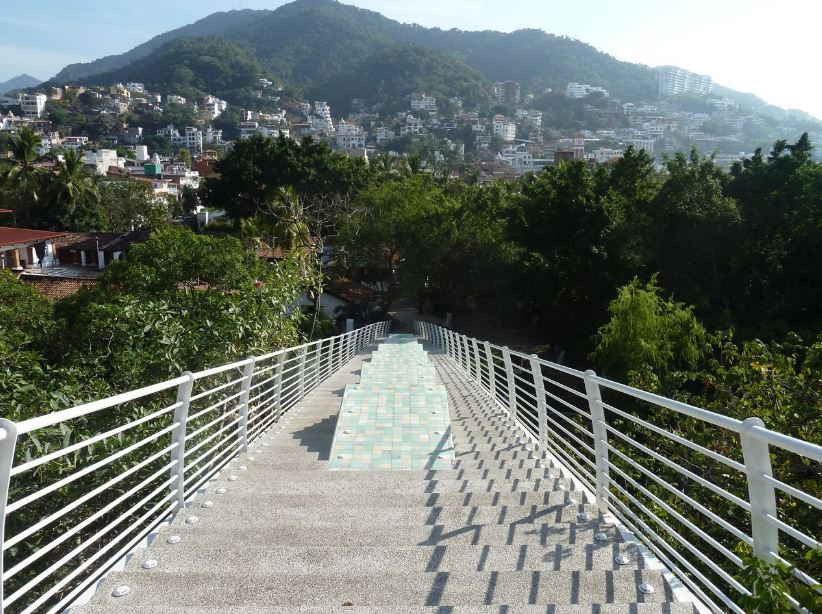 Between El Centro and the Romantic Zone, the Rio Cuale falls into the ocean. Isla Cuale, a little island in the river, is also worth visiting. This is a fun destination to visit and should be on your bucket list.
There are several bridges that connect the island to town, and there is much to see and do to keep you occupied for a long. Explore the market, visit the cultural centre, or simply stop by one of the restaurants or pubs for a drink and a bite to eat.
The small beach is filled on weekends with local families who come to picnic and swim in the river. In the afternoons, live music can be found at Babel Bar, which is a great location to hang out.
5. Eat, Drink, and Be Merry
Puerto Vallarta, Mexico, boasts a surprising number of restaurants, bars, and nightclubs for such a tiny city. I wouldn't criticise you if all you wanted to do on your vacation was lie on the beach, eat a wonderful dinner, dance all night, and repeat!
You'll want to save your diet for when you return home because you'll want to eat a lot here. Amazing street tacos, local seafood spots, high-end restaurants, food trucks, and so much more are all available. If you can, save some room for ice cream and churros.
PV boasts a plethora of drinking establishments. Try some local craft beer at Monzon, pulque at La Pulqueria, a margarita at Joe Jack's, or mezcal at La Casa De Hugo. The nightlife possibilities in Puerto Vallarta are limitless.
Where to Eat in Puerto Vallarta
Going out to dine is one of the most enjoyable aspects of visiting Puerto Vallarta, Mexico. You have plenty of options, from grabbing a stool at a taco truck to dining on a candle-lit seafood feast on the beach.
Breakfast – Fredy's Toucan
This establishment is always packed for breakfast and is well-liked by all. Locals, expats, and tourists alike come here to sample specialties such as the legendary Campesino breakfast or Mexican omelette. Make sure to come hungry because the quantities here are fairly large.
Fredy's also offers an impressive drink menu, with everything from mimosas to cappuccinos to smoothies. It's possible that you'll have to wait a while for a table, but it'll be well worth it. The prices are really cheap, especially considering how much food you get.
Lunch – Restaurante Dianita
There are several touristic lunch venues along the Malecon or on the beach, but I prefer this local joint in the Romantic Zone. Every day, they serve a different menu del dia (meal of the day), which is always fantastic.
You can order a soup and a main entrée from the menu of the day, as well as a refreshing agua fresca. The cuisine is fantastic, the staff is quite pleasant, and best of all, you can eat for less than $5 here.
Dinner – La Palapa
One of the joys of a trip to Puerto Vallarta is having dinner on the beach while watching the sunset. Since 1959, this highly rated restaurant has been a PV favourite, and it shows no signs of slowing down.
While they have a large menu and are available 24 hours a day, I recommend a delicious seafood dinner here. Order their catch of the day and a delicious cocktail, and you've got yourself a fantastic dinner.
Best Beaches in Puerto Vallarta
The majority of visitors to Puerto Vallarta, Mexico, are seeking some sun and sand. There are many beaches to select from in Banderas Bay, each offering something unique.
The beaches in Puerto Vallarta are mostly white sand, but not the blinding white sand found on many of Mexico's top beaches. Although some of the beaches are rocky, they are all suitable for sunbathing and swimming.
Puerto Vallarta doesn't receive a lot of waves depending on the season, thus it's not the finest area to try boogie-boarding or surfing.
If you're looking for waves, you'll have to travel a little further up the coast to Sayulita. However, if you're unsure about the ocean conditions, simply contact your hotel or a local for advice.
There are a few beaches within walking distance of town, while others need a short drive north or south along the bay. Here are three of Puerto Vallarta's top beaches:
Los Muertos Beach
This is the classic beach in Puerto Vallarta. It's the most popular beach to visit because it's right in town. You may rent a sun lounger from a number of restaurants and bars, or simply bring your towel and lie down in the sand.
Here you'll find the sail-shaped pier that has become an iconic symbol of the city. This is where you may get a water taxi to areas like Boca de Tomatlan or Yelapa in the south.
There are a variety of entertaining activities available, such as paragliding and jet skiing. You can also play beach volleyball, hire a mariachi band to entertain you, or simply relax while sipping a margarita.
Mismaloya
This beach is located south of town (directions here) and is accessible by bus or taxi. It's a well-known location because it's where the movie The Night of the Iguana was shot.
This film firmly established a peaceful fishing hamlet on the tourist map, starring Richard Burton (who was accompanied by his love interest Elizabeth Taylor).
A few seaside restaurants in Mismaloya will allow you sit and utilise chairs and umbrellas as long as you order.
But it's the beach's proximity to the Los Arcos National Marine Park that makes it the greatest. One of the greatest things to do in Los Arcos is to go on a SUP and snorkelling excursion.
Las Gemelas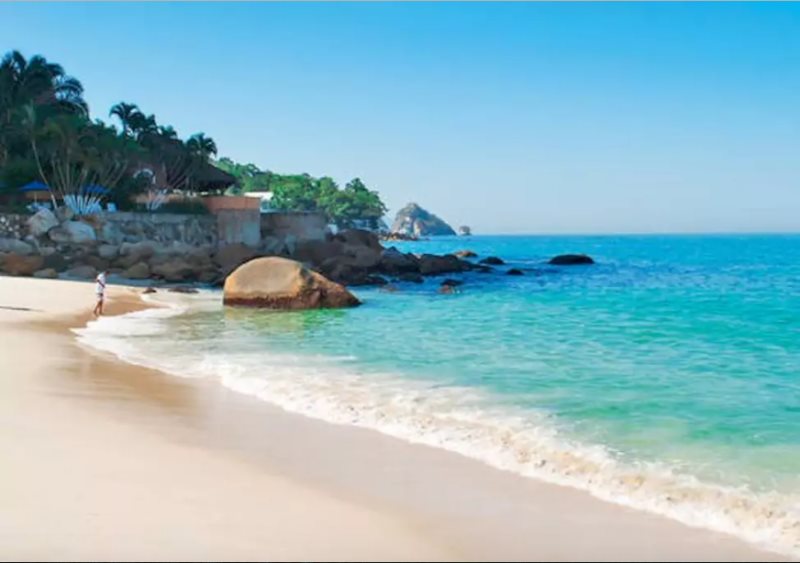 With a moniker like "the twins," you get two beaches for the price of one! Also south of town, approximately halfway down to Mismaloya, is Las Gemelas. Here's where you can find it on the map and get instructions.
If you want to avoid the crowds, this is a nice beach to visit. It's a little secluded because the only way to get to the beaches is through the luxury condos or a steep and narrow route off the main road.
There are no facilities here, but if you bring a book and a cooler with food and drinks, it's a nice area to spend a few hours.
Top Tours in Puerto Vallarta
There are several fantastic tours to select from if you want to escape out of the sun for a little longer. There are water sports like as snorkelling and fishing, adventure activities such as ziplining and ATV riding, and plenty of wonderful gastronomic tours to choose from.
The following are three of the top trips in Puerto Vallarta:
1. Rhythms of the Night
How about a Cirque du Soleil-style entertainment on a secluded beach, complete with a delectable dinner and an open bar? When you join up for Rhythms of the Night, one of the best Puerto Vallarta tours, you receive just that.
You'll be transported by boat to the isolated Las Caletas beach, where you'll dine on a buffet supper with the option of adding free-flow drinks. The show follows, which is a mind-blowing mix of acrobatics and dancing. It's a fantastic spectacle and a great night for everyone.
2. Vallarta Food Tours: Original Downtown Tour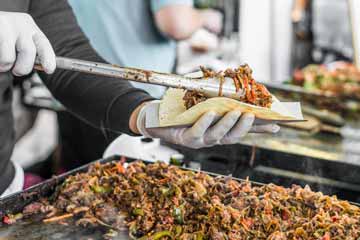 In Puerto Vallarta, Mexico, there are so many fantastic local restaurants and street food vendors that it might be overwhelming. It can be difficult for the inexperienced to decide where and what to eat.
Vallarta Food Tours, for example, offers a variety of opportunities for exploring the city's culinary attractions. Their original downtown tour is a great way to get a taste of the local cuisine.
This tour gives you a lot of bang for your buck, with nine distinct stops! The review of this tour company from Goats On The Road can be found here.
3. Marietas Islands
This excursion requires some travel time from Puerto Vallarta, but it is well worth the effort. In Banderas Bay, the Marietas are a collection of deserted islands that are home to a postcard-worthy "secret beach." Many tour companies operate here, but Chica Locca's is highly recommended.
You may go snorkelling, SUPing, or kayaking on their tour, and they even have a couple water slides on the boat!
With an open bar, a delicious lunch, and plenty of hammocks to relax in, you've got yourself a fantastic day at sea. They're in Sayulita, but if you're staying in PV, you can meet them at the dock in La Cruz.
Is Puerto Vallarta Safe?
This is a popular question from those thinking about visiting Puerto Vallarta, Mexico, and it's understandable. Before scheduling a vacation anywhere in the world, it's always a good idea to look into the safety situation.
I'm delighted to report that the short answer is an emphatic "Yes!" Traveling in Puerto Vallarta is safe.
Other parts of the state of Jalisco, such as the huge metropolis of Guadalajara, require a little more caution when travelling, but Puerto Vallarta is safe.
While it is true that there are some dangerous locations in Mexico, they are mainly found along the state boundaries and are located far from Puerto Vallarta.
Of course, crime and violence dominate the evening news in other countries, giving a distorted picture of Mexico's overall safety.
To put it in perspective, that's the equivalent of postponing a vacation to Myrtle Beach because of violent crime in Baltimore. Would you postpone your trip to the Greek Islands due to the conflict in Syria? Doesn't it seem a little ridiculous?
After all, Mexico is the world's 14th largest country. Mexico spans all the way from Ireland to Turkey when placed on top of a map of Europe. Obviously, when it comes to safety, not all parts of Mexico are the same!
Safety is a major worry in Puerto Vallarta, which is one of Mexico's most popular tourist attractions. The city has twice as many police officers as the federal government requires, and violent crime is extremely rare.
I've lived here for nearly two years, and the worst thing that's happened to me so far is getting overcharged on a cab every now and again. We ride the local buses, go around with our laptops and cameras, and occasionally party late.
Nonetheless, you should exercise the same prudence you would in any other situation. Keep a copy of crucial documents such as your passport in your hotel room, ideally in a safe. Carry as little cash as possible, especially in a wallet that hangs out of your back pocket.
Taxi drivers, for the most part, are trustworthy and industrious individuals. Of sure, there will be a few scumbags that try to overcharge you. Everything is fine if you agree on a fee ahead of time.
Take down their phone number just in case you need to report them if you want to be extra careful. Accept no rides from unmarked taxis, especially those at the airport, as they will almost certainly swindle you off.
You must use common sense in this situation, just as you would anywhere else. Stick to well-lit locations at night, don't display your flashy new iPhone on a crowded bus, don't take drinks from strangers, and so on.
There's a lot of drinking going on here, to be sure. Puerto Vallarta, Mexico, is unquestionably a party town, especially during American spring break and Holy Week (Holy Week).
I encourage you to go out and have fun while you're here, but don't go crazy. Tourists who wind up in dangerous circumstances here are usually under the influence of drugs or alcohol.
Unfortunately, break-ins appear to be growing more common in Puerto Vallarta. If you're staying in a hotel or a posh all-inclusive resort, this isn't an issue, but it is if you want to rent apartments through sites like Airbnb.
We've never had a problem, but we know folks who have had their homes or businesses broken into. Simply ensure that everything is properly locked when you leave the house and while you sleep (and only stay at reputable places). Furthermore, never open the door to strangers.
Make sure you have travel insurance and understand the coverage before going to Puerto Vallarta, or anyplace else for that matter.
If you have an emergency here, the number to call is 911, so at least that's easy for those coming from north of the border.
Having said all of this, crime can happen anywhere in the world. Be aware, but not paranoid. Do your research, seek the advice of locals and enjoy your stay in Puerto Vallarta. 
Whenever we travel to we make sure to start with these companies. We have tried a lot of different ones over the years and all of these have consistently proven to be the best when it comes to offering great prices.
.
Booking Your Trip & Stay
We have used every one of these personally and continue to do so.
Booking.com: This is our go site to when comparing prices for accommodation. It usually has the cheapest prices, especially in Europe and we love their interface. Not to mention you get free cancellation and you are guaranteed the best price.
Trip Advisor: What we like about Trip Advisor is that we can look at all the reviews and then book our accommodation. TripAdvisor is where we go when we want to compare prices with multiple accommodation providers.
VRBO: is the main search engine we use when we are looking for a home or apartment rental. It can sometimes be cheaper than hotels and it is the best way to stay in areas that offer a more local feel.
Hostelworld: With one of the largest databases of hostels in the world, Hostelworld is the go-to site when you are looking for budget accommodation.
Skyscanner: This is the first place we check for flights. It consistently comes back with the cheapest and best options. It allows us to compare a lot of airlines to get the best price.
Rome 2 Rio: If you want to see how to get somewhere by plane, train, bus, ferry or car Rome2Rio lays it all out for you as well as related costs.I love how they show it all to you on a Google Map and it works offline.
Get Your Guide: For all your day trip and city guide needs, we use Get Your Guide. It has the world's largest collection of things to do with more than 30,000 activities in 7500 destinations.
World Nomads Insurance: When traveling to Italy you should always have travel insurance. We have found the best bang for your buck is by far World Nomads.
___________________________________________
Disclaimer: Some of the links in this article are affiliate links that may provide me with a small commission at no cost to you. However, I have vetted every program in this guide and believe they are the best for generating affiliate revenue. You can read my full affiliate disclosure in my privacy policy.