Best Podcast Platforms! Make money Podcasting!
The Best Podcast Hosting Platforms (Free & Cheap)
Over the last few years, podcasting has been increasingly popular. As a result, many content providers have turned to podcasts to expand their audiences, diversify their distribution channels, and increase revenue. You've come to the correct place if you're looking for a podcast hosting platform to help you get your show off the ground. I'll be leveraging my own wealth of experience as a professional podcaster (where I host The Side Hustle Project), to show you how to choose the ideal podcast hosting platform to get you to achieve your goals. I have also highlighted the highly recommended platforms based on the opinions of the majority of podcasters I know!
2 Best Podcast Hosting Platforms (Free and Cheap)
Buzzsprout: Free Plan (Limited) or $12.00/mo
Simplecast: $15.00/mo
Podcastics: Free Plan (Limited) or $8.00/mo –

Highly Recommended

PodBean: Free Plan (Limited) or $9.00/mo
Anchor: Free Plan
Spreaker: $18.00/mo
Podomatic: $8.32/mo
SoundCloud: Free Plan (Limited) or $12.00/mo
Blubrry: $12.00/mo
Sounder: Free Plan (Limited) or $10.39/mo –

Highly Recommended

Libsyn: $5.00/mo
Transistor: $19.00/mo –

Highly Recommended

Captivate: $17.00/mo –

Highly Recommended

RSS.com: Free Plan (Limited) or $4.99/mo
Fusebox: Free Plan (Limited) or $8.00/mo –

Highly Recommended

Podcast Websites: $77.00/mo
FeedPress: $9.94/mo
Whooshkaa: $29.00/mo
Podcast Garden: Free Plan (Limited) or $2.99/mo
Audioboom: $9.99/mo
Castos: $19.00/mo –

Highly Recommended

Resonate Recordings: $25.00/mo
Is it worth starting a podcast in 2021?
According to Statista, in the United States alone, 75 million people listened to podcasts on a monthly basis in 2018. By 2024, that number is expected to have risen to 164 million. These astronomical numbers are fantastic news, as they confirm your decision to start podcasting (especially if you plan to make a company out of it). According to these figures, podcasting is an excellent approach to:
Make an effort to promote oneself: Podcasting is an excellent approach to promote yourself and your blog's content. The figures are self-evident. You'll have a huge audience to advertise your products or services to if you can tap into a small fraction of podcasts listeners in your niche.
Create a sense of authority: Building authority and reputation in your field is something that podcasting will really assist you with. As more people hear what you have to say, they will gain confidence in you and be more willing to seek your help when they have a question.
Increase your visibility by networking: Whether you're a blogger or a small business, your success hinges on your target audience finding you—and podcasting is a terrific (proved) way to do just that by interviewing and networking with people or brands who already reach the audience you want to reach.
Make money from your audience: One of the ways I've made money from my blog is through podcasts sponsorships from firms looking to reach my listeners and blog readers. If you can plan ahead to create a podcast that appeals to a certain audience—and work hard to advertise your programme and attract listeners—then many brands, products, technologies, and services have already demonstrated that podcasts sponsorships yield a positive return on investment. It's only a matter of demonstrating that your podcast has a loyal following and reaching out to the relevant brands who want to advertise to your audience.
The figures are self-evident. Whether you're also blogging or not, podcasting is a terrific approach to reach a larger audience. In fact, podcasting is more effective at reaching those who don't spend as much time searching for and reading your blog entries.
It's never been a better moment to start podcasting, with podcasts consumption moving in the right direction. However, in order to do so… To host and distribute your podcasts, you'll need a podcasting hosting platform.
Why do you need podcast hosting?
When you start podcasting, you'll need a single place to host all of your audio files, just as when you start a blog (and need a web hosting package to get your blog fully online).
Podcasts hosting, first and foremost, provides a digital home base from which you may control all aspects of your podcast. It's where you'll go to give your show a name, submit a logo (or artwork), publish new episodes, and more.
Podcasts hosting also provides an RSS feed that automatically distributes your podcasts episodes to all of the main podcasts directories and apps (such as Apple Podcasts, Spotify, Stitcher, and others), ensuring that your podcasts are available to your audience as soon as a new episode is ready to be released.
Now, let's take a look at the 23 top podcasting hosting platforms to consider for your next show. You'll have your podcasts up and running by the end of this guide.
1. Buzzsprout: Free Plan (Limited) or $12.00/mo
Buzzsprout is the greatest podcasting hosting platform for a few reasons: it's incredibly beginner-friendly, has a free plan to get started, and its cheap podcasting hosting plans are also priced to be very budget-friendly. They combine a comprehensive set of capabilities in a package that is extremely inexpensive.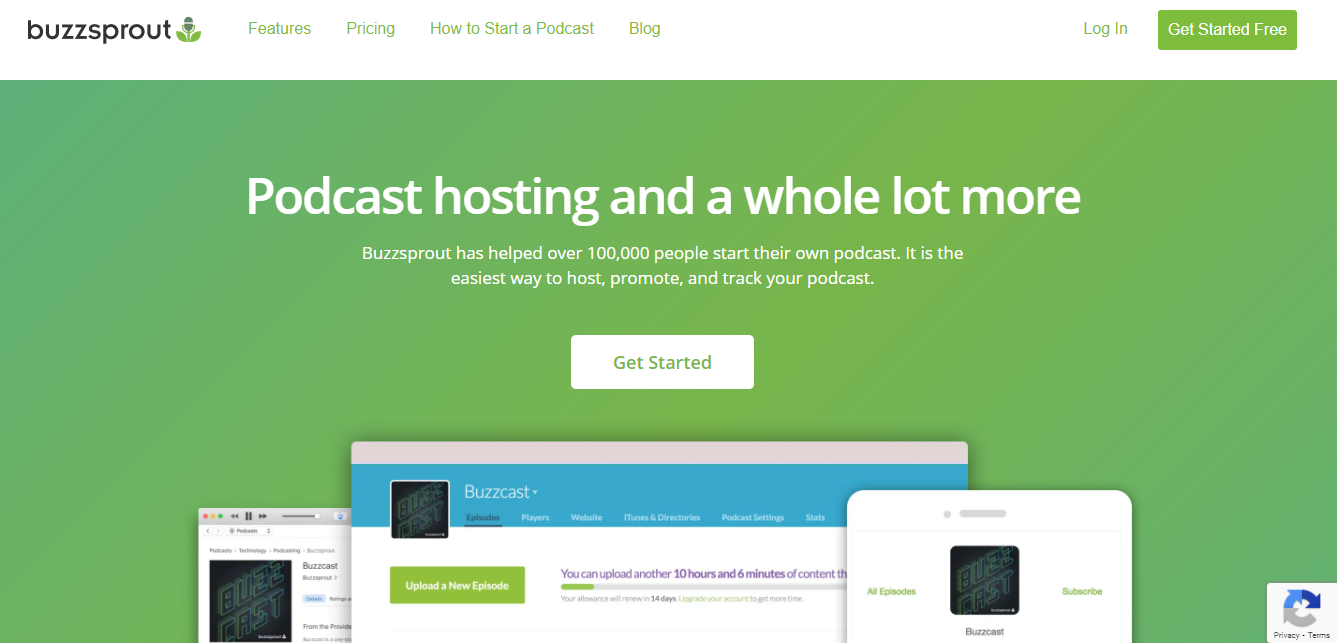 Buzzsprout, which has been operational since 2009, knows podcasting better than most other podcasting hosting platforms. As a result, they've been able to create plans that are incredibly reasonable and can meet your needs, no matter where you are in your podcasting adventure right now.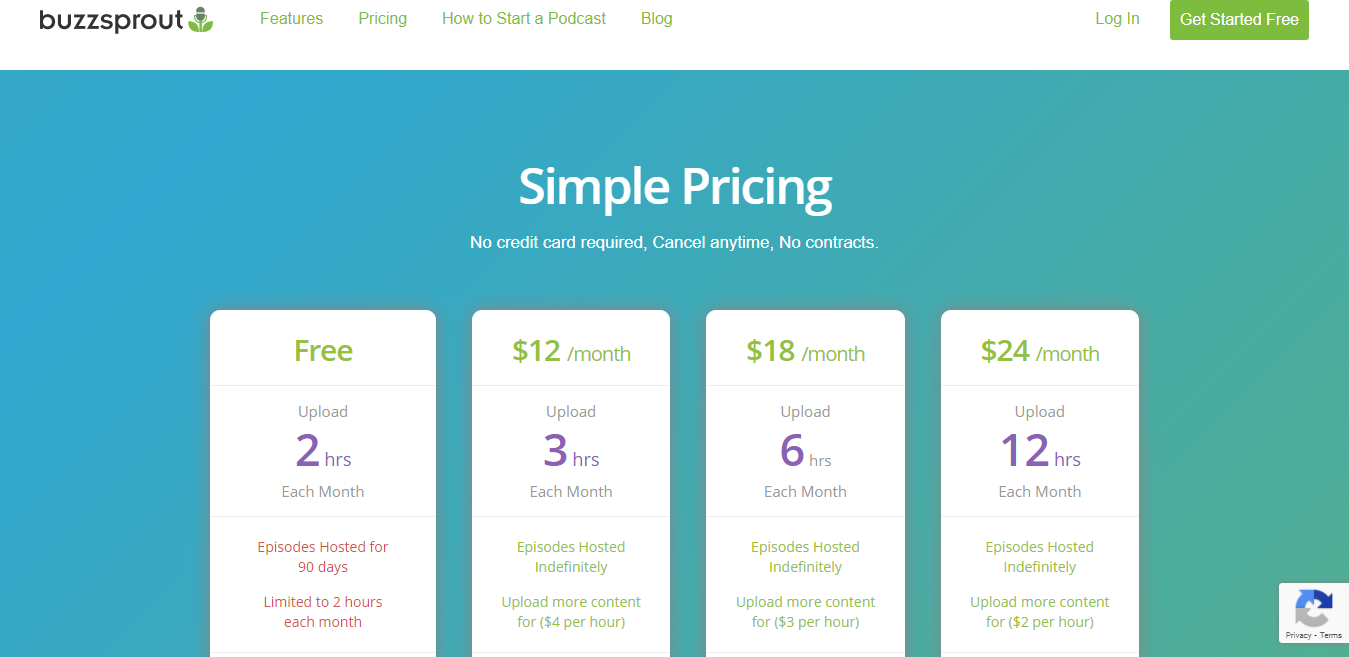 Their free podcasting hosting plan is ideal for novices who want to try out podcasting before committing to a long-term commitment—and their affordable podcasting hosting options are both approachable and built to grow with you as your show progresses.
Features of Buzzsprout Podcasting Hosting
Buzzsprout's feature sets are what really set them apart when it comes to the finest podcasting hosting platforms. Again, Buzzsprout takes the lead with a great feature set that will help you launch and expand your podcasts quickly—without having to waste time learning all the technical details behind the scenes. This contains functions such as:
Unlimited storage
250GB of bandwidth/month (allows for up to 40,000 downloads)
Advanced analytics
Automatic episode optimization
Magic audio quality mastering (available on their cheap podcasting hosting plans only)
Pros of Buzzsprout
Very affordable plans
Superb audio quality
Easily embed the podcasts player on your website
Easy to use, even without any technical knowledge
Cons of Buzzsprout
The free plan is limited to 2 hours of audio content per month (and stays hosted for 90 days)
You'll eventually want to upgrade to one of their (affordable) cheap podcasting hosting plans
Buzzsprout Podcasting Hosting Verdict
Buzzsprout is without a doubt one of the greatest podcasting hosting services available today, especially for podcasters on a budget (or those just getting started with podcasting). With a robust free offering and their most affordable plan (at just $12.00/mo), you'll have access to all of the features you'll need to start and grow a podcast.
While they do have a free podcasting hosting plan to get you started, in my experience, you'll want to (soon) upgrade to one of their paid plans to take advantage of all of their features. This will also give you access to their entire toolkit for podcasts production and promotion.
2. Simplecast: $15.00/mo
Simplecast is a strong rival for the finest podcasting hosting platform, so ranking them second on this list was difficult—but the decisive point was that Buzzsprout offers a free starting plan, but Simplecast does not (though they do offer a 14-day free trial here). However, many worldwide businesses use Simplecast to host their podcasts, and I even host my own show on the platform, so if you only have a small budget to spend on podcasting hosting, Simplecast is a great option.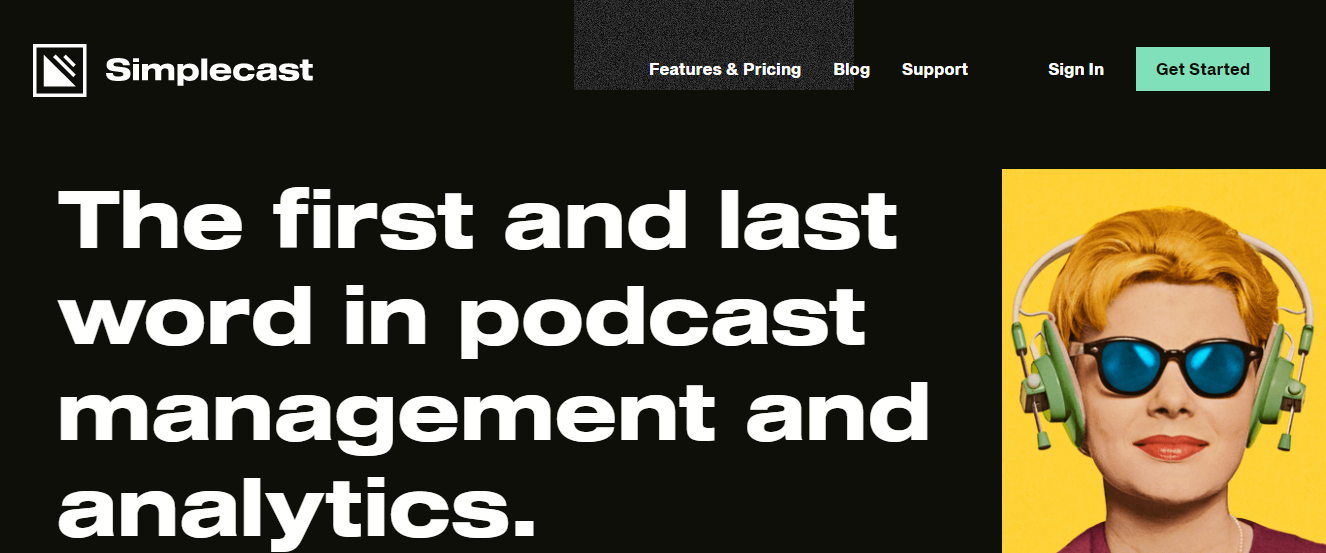 Although this podcast hosting platform does not offer a free plan, you may still try it out for 14 days for free. After you've completed the trial, you can choose from three low-cost podcast hosting options: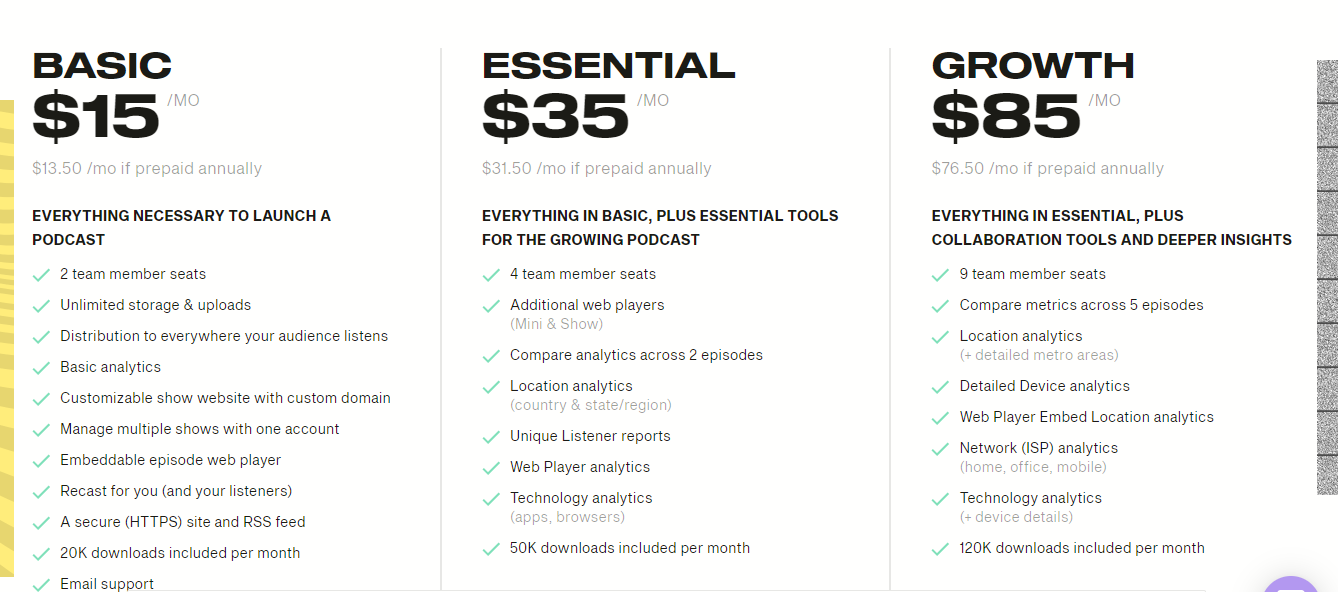 Simplecast, while slightly more expensive than some of our other top podcasting hosting services, does not disappoint when it comes to the many features and functionality it provides.
Features of Simplecast Podcasting Hosting
Among the notable features you'll enjoy with this leading podcasting hosting platform include:
Unlimited storage and bandwidth
Distribution support for multiple platforms
Customizable mini website for your podcasts
Powerful analytics
Easy social media sharing with ReCast
Embeddable podcasts player (a huge win if you'll be blogging alongside your podcast)
Pros of Simplecast
Feature-rich podcasts hosting platform
Makes it easy for your audience to create clips of your podcasts and share them
Mini website with audio transcript helps boost SEO
Easy to import your shows from another platform
Add team members with different access levels
Cons of Simplecast
No directly built-in revenue generation features (you can still sell your own podcasts sponsorships)
Additional features may require you to upgrade to higher-priced plans
Simplecast Podcasting Hosting Verdict
Simplecast is one of the finest podcasting hosting platforms because they provide amazing value (at a low monthly fee) to their clients by providing a wealth of features and good customer service. If you have an issue with your show, you can contact their support team at any moment for immediate assistance.
It's simple to sign up for one of their programmes right here, and it'll be a worthwhile investment to improve your podcasting game. Plus, if you use my special discount code ONSIMPLECAST at checkout, you'll save 50% on your first two months.
3. Podcastics: Free Plan (Limited) or $8.00/mo
Podcastics makes this list as one of the few free podcasting hosting platforms that offers a strong feature set and an astonishing choice of options for their free plan (though the free plan requires you to host your episodes on your own server). Once you're ready to upgrade and unlock their best features (including their done-for-you podcasting hosting), they provide very affordable subscription options starting at $8.00/mo.

What's even great about Podcastics is that they offer a one-month free trial with no credit card required, allowing you to try out all of their features (without limitations). After the free trial time expires, you'll be migrated to their forever free plan, which has certain feature limits, or you can upgrade to one of their low-cost podcasting hosting plans, which start at $8.00 per month.
Here's a quick comparison of Podcastics pricing and plans (click here to view the full descriptions and breakdowns):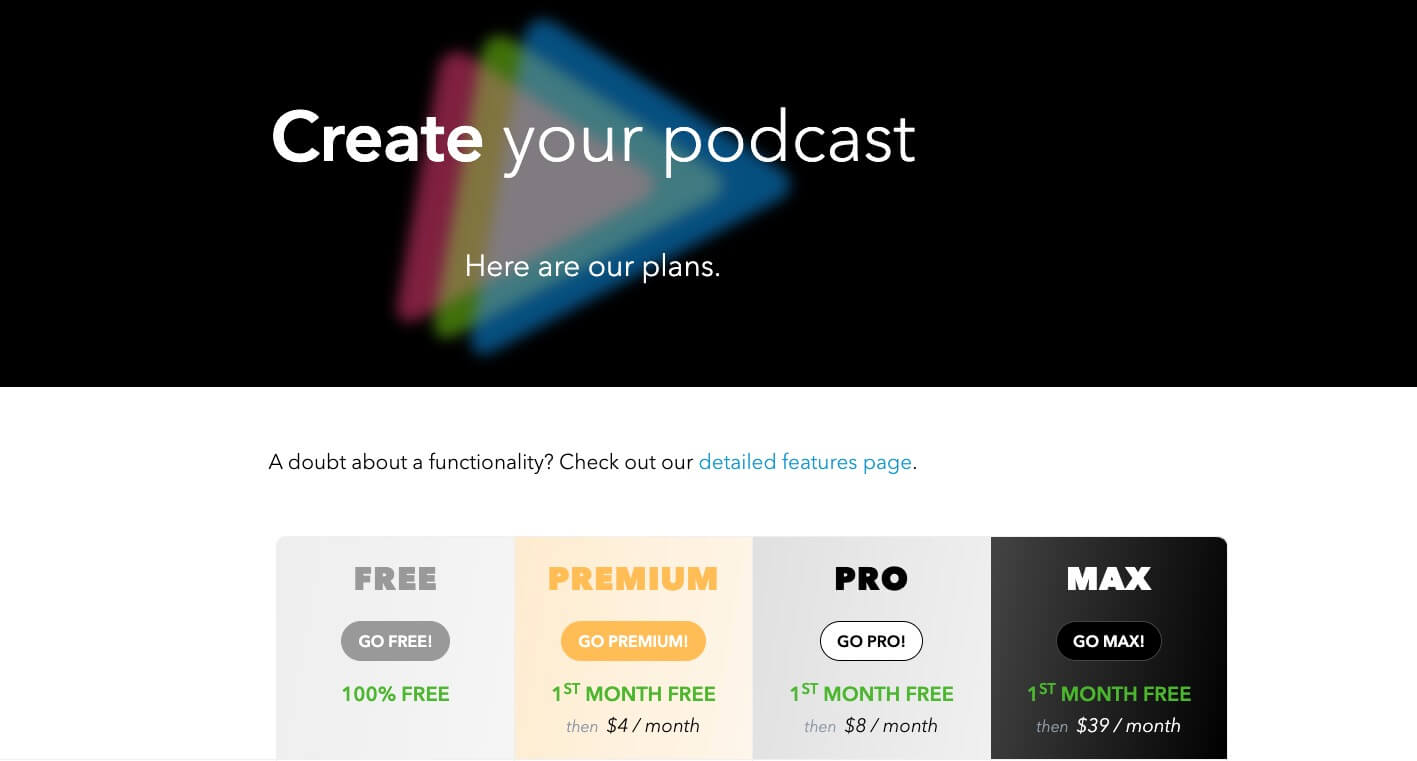 Features of Podcastics Podcast Hosting
Podcastics packs a punch with their robust set of features in a hosting platform, even on their free plan. These include:
Their Pro plan, the lowest plan that includes fully done-for-you podcasting hosting starts at $8.00/mo, and includes unlimited storage, bandwidth and number of downloads
Magic import with no episode limit (from Apple Podcasts or any other hosting platform)
Full, detailed podcasts & episode management
Unlimited episode hosting
Free website to host your podcasts on
An RSS feed
Plenty of monetization options
Managing podcasts subscribers
Excellent support
Pros of Podcastics
For a free podcasts hosting platform, the features are very impressive
Their cheap podcasts hosting plans (that include fully done-for-you hosting) are some of the best bargains in the industry
One of the easiest platforms to learn and use for managing your show
Cons of Podcastics
While their free plan is pretty great you'll have to upgrade to a paid option to unlock features like true, done-for-you hosting, an embeddable podcast player, statistics, reviews & ratings
Podcastics Podcasts Hosting Verdict
Podcastics should be at the top of your comparison list of the best podcasts hosting platforms (and try out). Podcastics should absolutely be considered for your podcasts hosting provider, with a great free offering, very reasonable (fully featured) upgrade plans starting at just $8.00/mo and excellent support. You may test it out for free right now by going here.
4. PodBean: Free Plan (Limited) or $9.00/mo
PodBean is another podcasts hosting platform that has been a staple in the business in recent years, and for good reason.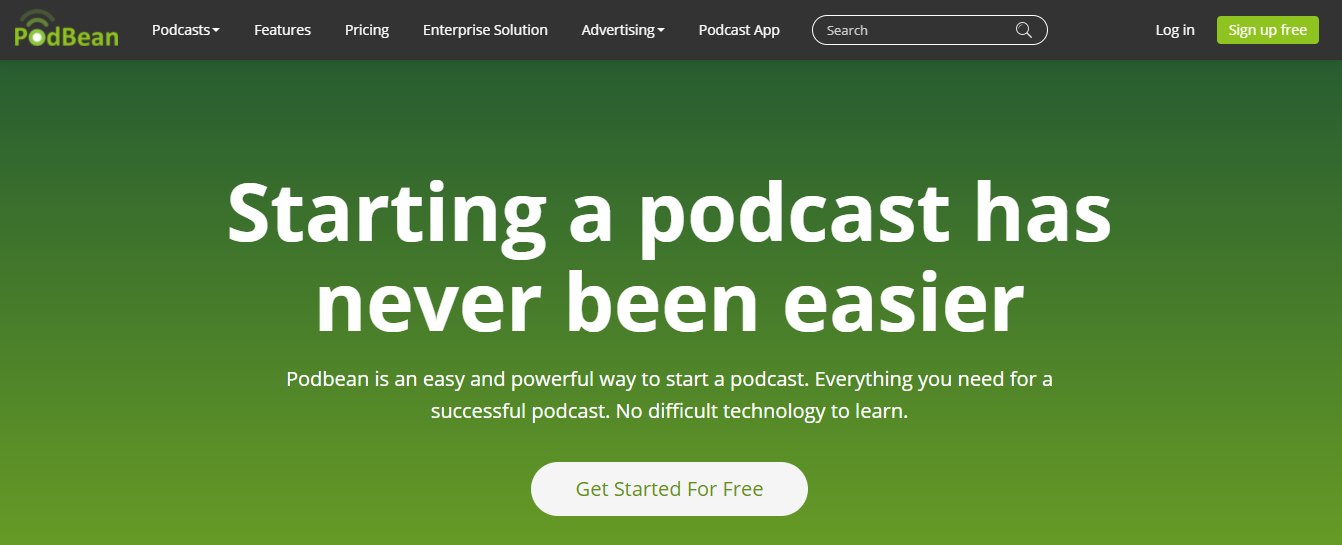 One of the reasons PodBean is so popular is that it includes a plan for every level of podcaster, from beginner to master. Their free podcasts hosting package includes a monthly content limit of 5 hours and 100GB of bandwidth. Basic analytics are also part of the free plan, as is a PodBean-hosted website that can be turned on (and dedicated to just your podcasts).
When you outgrow their free plan, here's what you'll have to pay to upgrade to one of PodBean's cheapest podcasts hosting plans: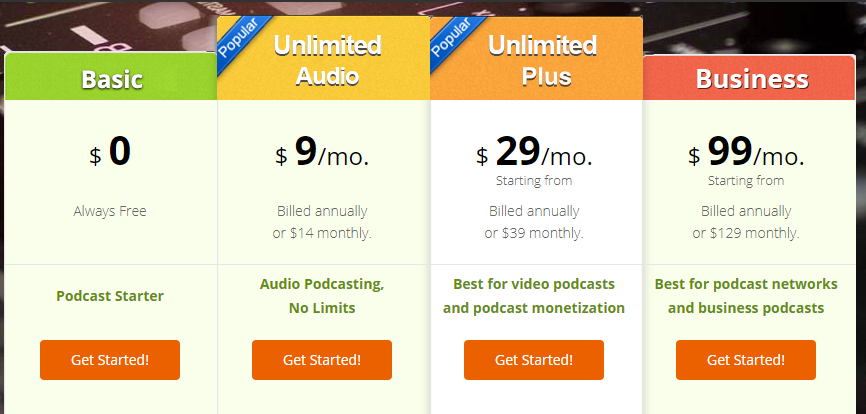 Features of PodBean Podcasts Hosting
Another reason PodBean is loved by so many is that it comes with a rich feature set that includes:
Unlimited storage and bandwidth
Embeddable players
Free podcasting site
Automatic social sharing (including YouTube uploads)
iOS and Android app
Website builder and themes
Pros of PodBean
Lots of monetization options
Has one of the best free podcasts hosting plans
Makes it easy to grow as a podcaster
Highly customizable
Supports video podcasting on higher plans
Cons of PodBean
Many reviews mention relatively slow customer support
PodBean Podcasts Hosting Verdict
In the end, it's impossible to identify any flaws with PodBean, especially considering the low monthly price of $9.00. You'll surely gain a lot of value from their podcasts hosting platform, whether you go for their free (somewhat limited) plan or upgrade to their affordable cheap podcasts hosting plans. You can discover more about their plans right here.
5. Anchor: Free Plan
Nothing compares to Anchor when it comes to the top podcasts hosting services that are truly 100 percent free with no strings attached—though it does have two key drawbacks: (1) They do not provide an embeddable podcasts player, and (2) your monetization options are limited. For these two reasons, I only recommend Anchor as a free podcasts hosting platform if you go into it knowing that you'll need to relocate your show to a different (cheap) podcasts hosting provider when you're ready to start making money from your podcasts.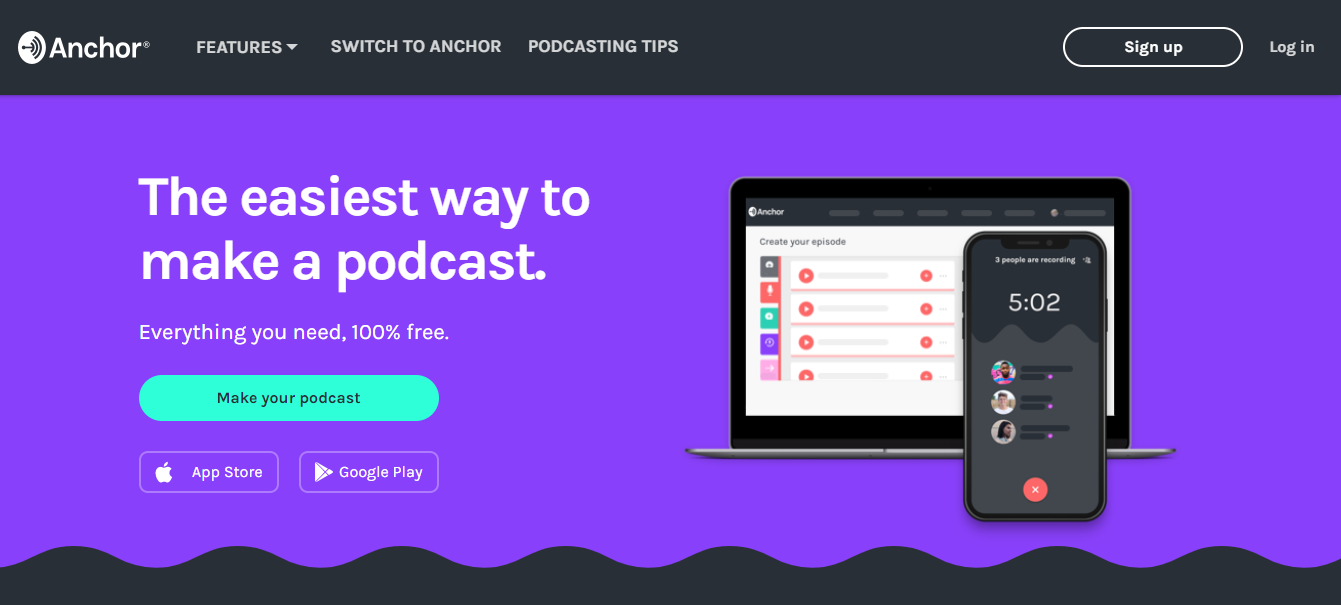 You can do everything on Anchor, from creation to hosting to distribution. Because it's part of Spotify's stable, you can expect nothing but the finest from this one-of-a-kind podcast hosting platform.
So, what are the benefits of using Anchor as your podcasts hosting service?
Features of Anchor Podcasts Hosting
Being a free podcasts hosting platform doesn't mean subpar features when it comes to Anchor. Here's what you can expect from this podcasts hosting platform:
One-click podcasts distribution
Analytics dashboard
Easy to use podcasts creation tools
Pros of Anchor
100% free to use and host your podcasts
Monetization opportunities through advertisements and sponsorships
No storage, bandwidth and channel restrictions
Automates almost every function
Easy to use guest calling function
Cons of Anchor
Extremely limited options to monetize your podcasts (either direct sponsorship from Anchor or listener support via their internal platform—available only to U.S. customers)
No embeddable podcasts player (a major drawback if you promote your podcast on your blog)
Doesn't integrate well with any other websites
Anchor Podcast Hosting Verdict
Anchor is the place to go if you're looking for a completely free podcast hosting platform. However, because the platform is extensively automated, it is not suited experts who want to control some aspects of the podcast creation process. If you need to start with free podcast hosting right now, Anchor should be viewed as a short-term solution due to the lack of an embeddable podcast player and other integration capabilities.
Anchor, on the other hand, is a wonderful platform for novices and hobbyists who want to learn the ins and outs of podcasting without having to break the bank.
6. Spreaker: $7/mo
If you're seeking for the best podcast hosting platform, Spreaker is a viable alternative.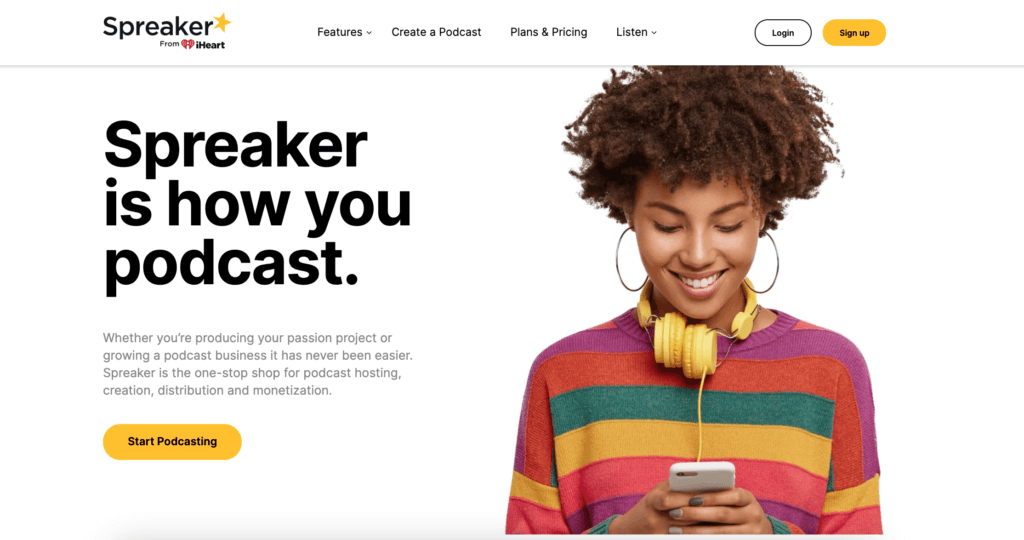 The feature-rich free plan is what makes Spreaker one of the top podcast hosting services. This package includes 5 hours of video, 15 minutes of live streaming, and the ability to host several shows. It's also one of the few free podcast hosting systems that includes episode scheduling and allows authors to have an infinite number of streams under a single account.
Doesn't that make you question what you receive with their paid plans? The good news is that they're still inexpensive when compared to many of today's most popular podcast hosting platforms: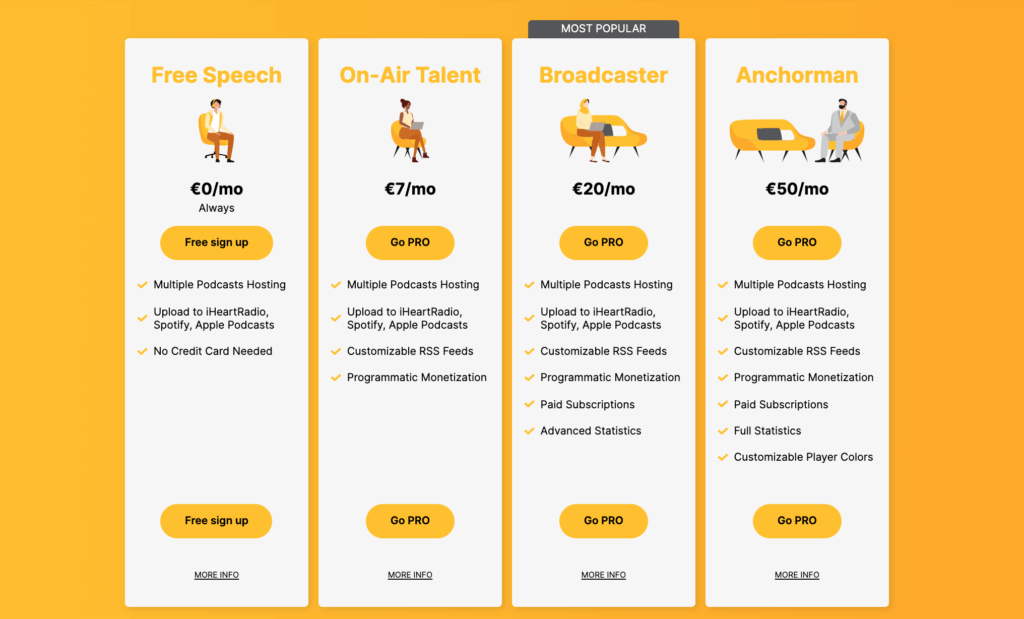 Features of Spreaker Podcast Hosting
Upgrading to Spreaker's paid (but still cheap podcast hosting plans) will open up a whole world of podcasting possibilities, thanks to features such as:
Advanced analytics
Customizable RSS feeds
Ability to limit access to podcasts
Longer live streaming intervals
Pros of Spreaker
Lots of monetization options
Customizable podcast player
Excellent distribution options
Tons of features available on the free plan
Cons of Spreaker
Lacks website option
Monetization feature only available on paid plans
Spreaker Podcast Hosting Verdict
Spreaker (owned by iHeartRadio) is a fantastic podcast hosting platform that provides enough of storage and makes it simple to distribute your podcast. If you're wanting to start podcasting or simply transfer podcast hosting services, it's a fantastic option.
7. Podomatic: $8.32/mo
Podomatic is another well-established podcast hosting platform. This platform has been available since 2005, and it has aided many aspiring podcasters in realising their goals.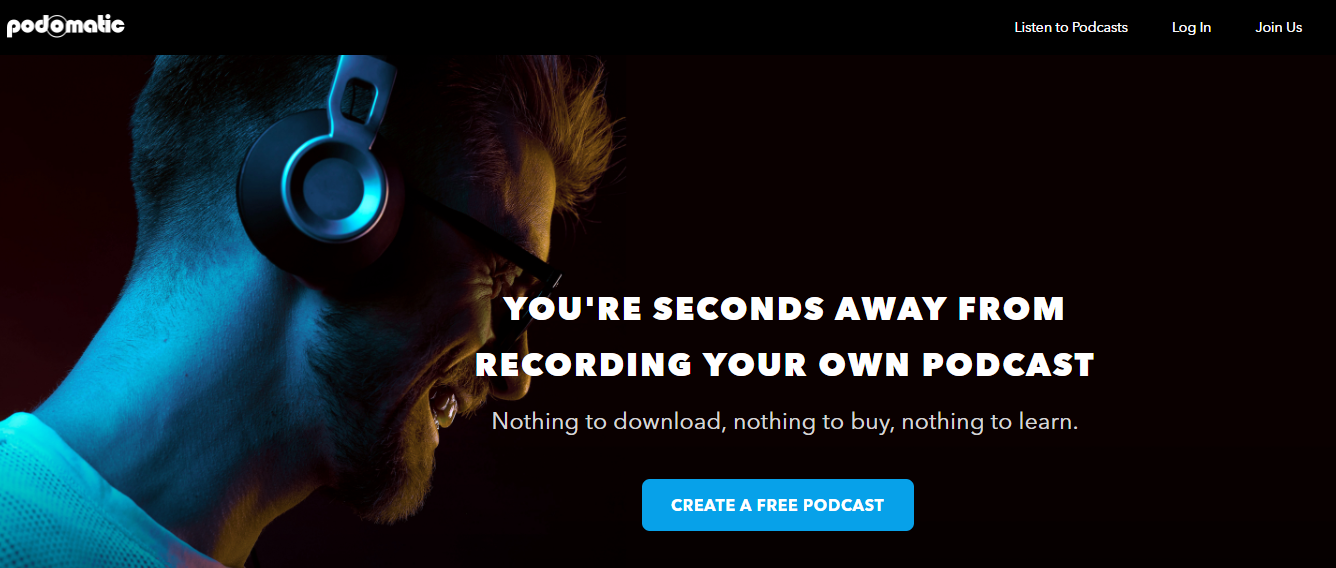 The free Podomatic plan includes 500MB of storage and 15GB of monthly bandwidth, as well as basic analytics. That's all you'll need to get your feet wet in the podcasting world. Podomatic's free plan has no expiration date, unlike other podcast hosting companies.
Want to get the most out of your Podomatic experience? Then upgrade to one of their economical, low-cost podcast hosting plans to gain access to more features and tools.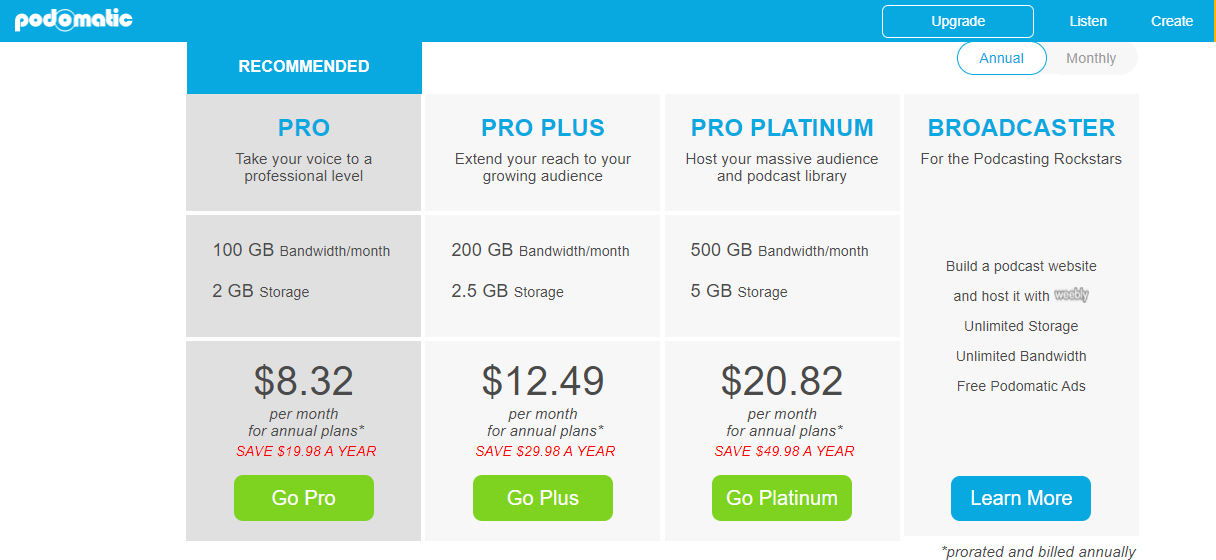 Speaking of features, let's quickly take a look at some of the main ones you get from this veteran podcast hosting platform.
Features of Podomatic Podcast Hosting
Podcast player can be embedded on your website
Free podcast app for iOS and Android
Weebly powered podcast website
Pros of Podomatic
Podcasts can be played directly from Facebook and Twitter
Generate revenue through Patreon and Advertisecast
Cons of Podomatic
Storage and bandwidth limited on all plans except the Broadcaster plan
No real distinctive features that set it apart from the rest
Podomatic Podcast Hosting Verdict
If you're searching for a simple podcast hosting platform with a user interface that's easy to use, Podomatic is an excellent place to start. If you're a frequent podcaster with a lot of content to produce, though, you're better off with a little more feature-rich solution like BuzzSprout or Simplecast.
8. SoundCloud: Free Plan (Limited) or $12.00/mo
While SoundCloud is most known for its music streaming service, it also serves as an excellent podcast hosting platform that you can use to deliver your podcast to your audience (and possibly gain some extra exposure to SoundCloud users).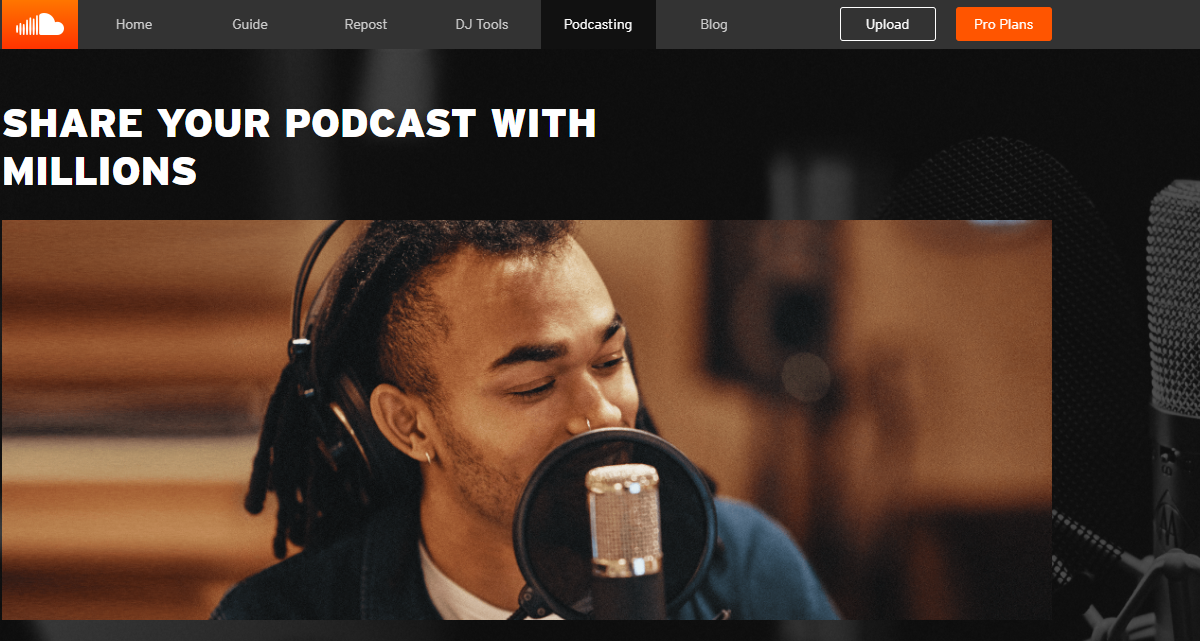 While SoundCloud is most known for its music streaming service, it also serves as an excellent podcast hosting platform that you can use to deliver your podcast to your audience (and possibly gain some extra exposure to SoundCloud users).
Features of SoundCloud Podcast Hosting (Unlimited Pro)
Unlimited upload time
Scheduled releases,
Advanced analytics
Customizable embed controls
Pros of SoundCloud
You can pin five podcasts to your profile
SoundCloud's social reach can give budding podcasters a boost
Cons of SoundCloud
Poor interface for podcasters
Free plan very limited
SoundCloud Podcast Hosting Verdict
While SoundCloud is a major player in the music industry, it still has a long way to go before it can be considered one of the finest podcast hosting platforms—but that shouldn't stop you from giving it a try if you're curious.
9. Blubrry: $12.00/mo
Since 2005, Blubrry has been a podcast hosting service. The brand's experience has unquestionably made them one of the top podcast hosting platforms around, so let's have a look at what they have to offer.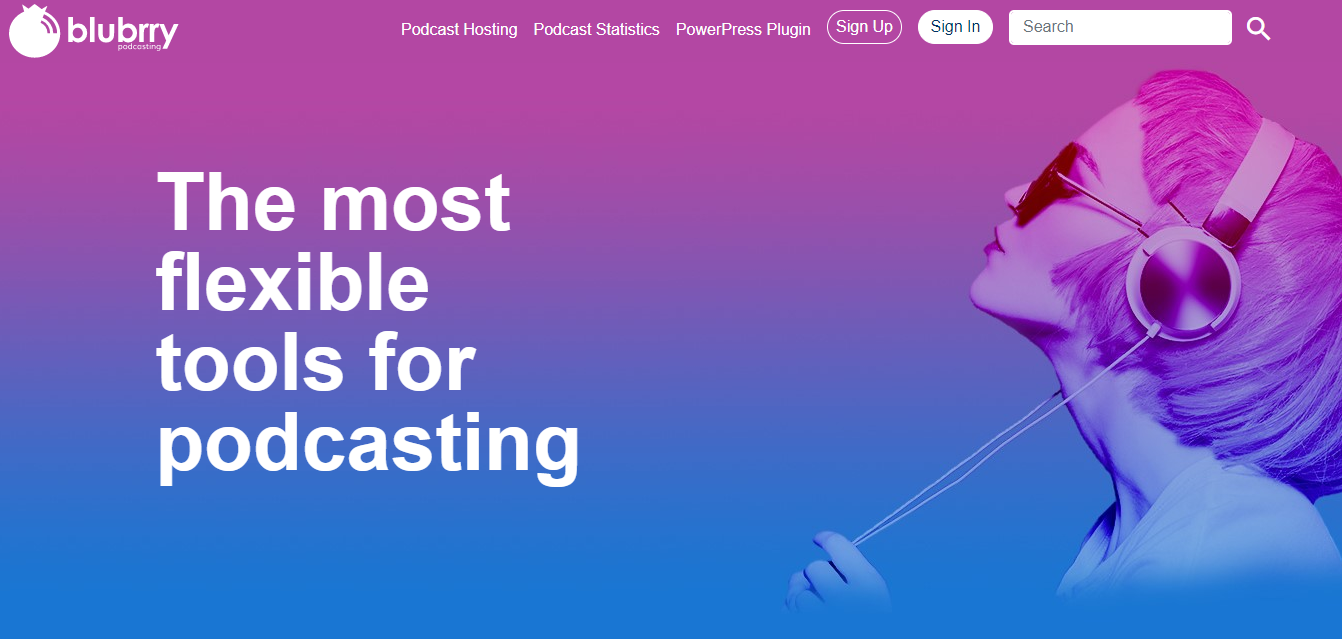 Blubrry's popularity stems from the fact that it uses WordPress and their proprietary PowerPress podcasting plugin to provide an optimised podcast website, while you can alternatively use a podcast website builder like Podcastpage to quickly create a site for your show. Blubrry's only significant flaw is that they don't offer a free podcast hosting plan for clients to try out—you'll have to pay for a paid, but still reasonably priced, podcast hosting plan.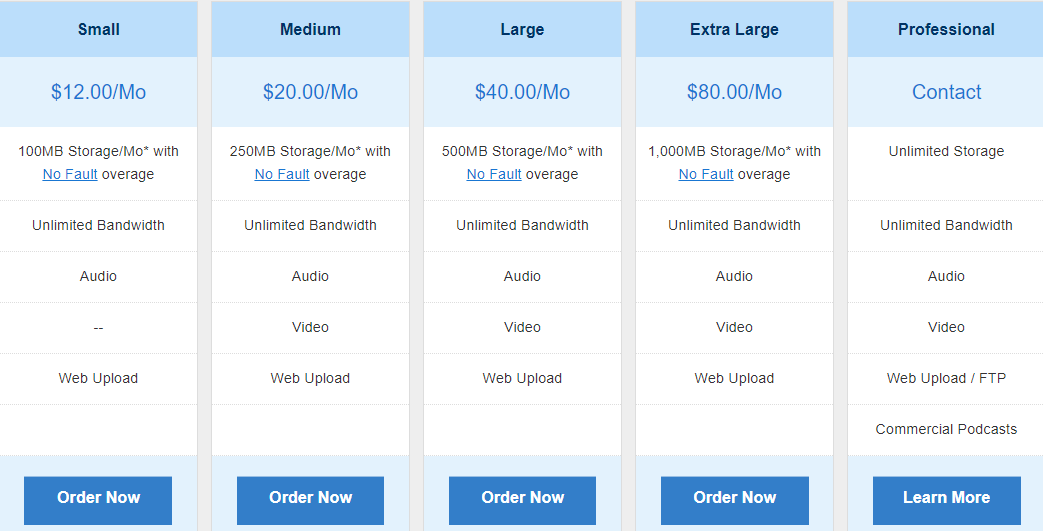 Features of Blubrry Podcast Hosting
Unlimited bandwidth
Limited storage (except on the Professional plan) but with 25% overage allowance at no cost
Video podcast option for all plans above the Small plan
Easy to use and customizable podcast player
Pros of Blubrry
Easy to migrate from another podcast hosting platform
Excellent support via email, phone, and video call
Lot's of marketing tools
Cons of Blubrry
No free plan
Only the professional plan can be monetized
Blubrry Podcast Hosting Verdict
For individuals who desire to podcast professionally, Blubrry is undoubtedly one of the top podcast hosting platforms. Blubrry is a terrific way to get your voice heard because it is feature-rich and has a lot of tools to help you advertise your podcast.
10. Sounder: Free Plan (Limited) or $10.39/mo
Sounder is a podcast hosting platform that places a strong emphasis on creator development. They feature a robust set of AI- and machine-learning-powered tools that allow producers to not only host their podcasts, but also promote, monetize, and track their development.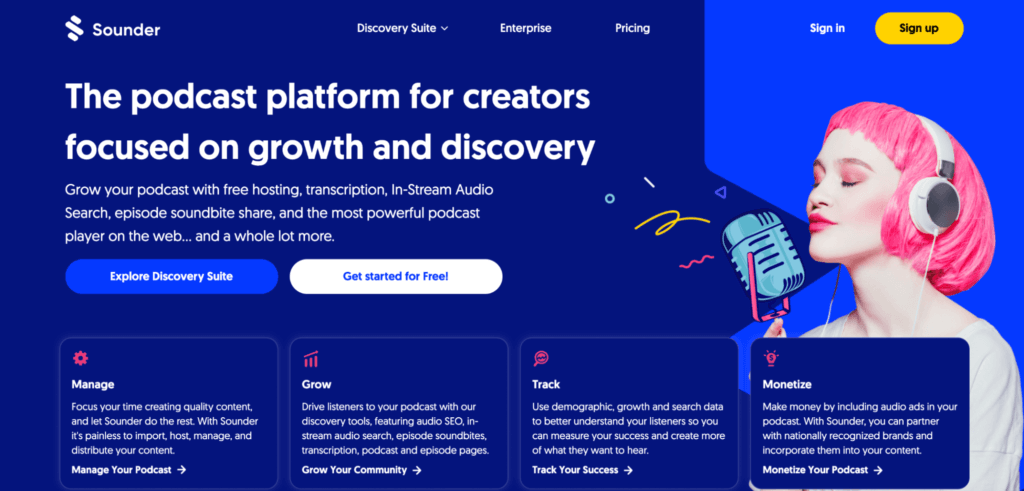 Sounder's platform is likewise free to use, with the opportunity to upgrade to their Plus plan, which provides podcasters with additional tools to help them increase their audience. Here's a quick rundown of their pricing and features: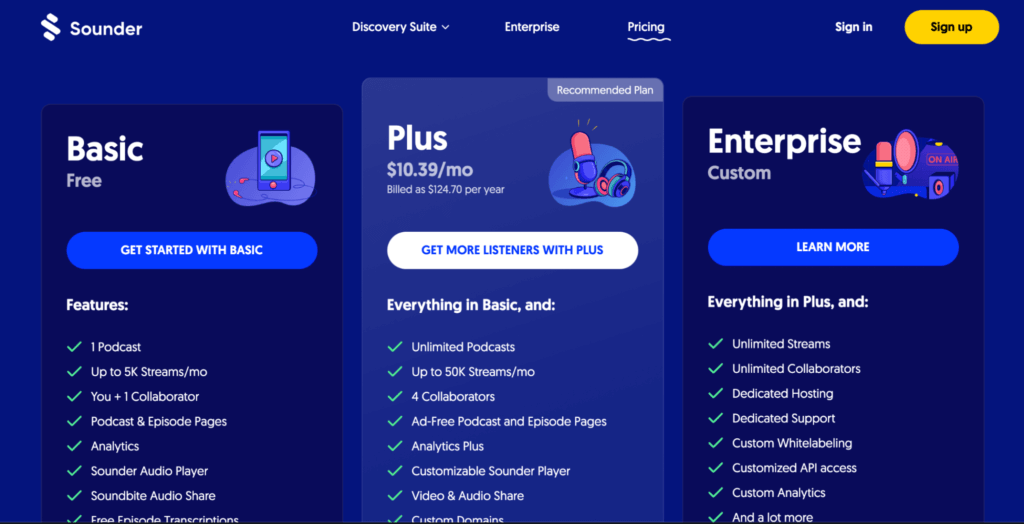 Features
Monetization options
SEO optimized pages for creators
Audio SEO features such as automatic transcription
Promotional tools
Powerful analytics
Pros of Sounder
Heavy focus on user's growth through discovery and monetization options
In-stream audio searching to help find specific moments easily
Soundbite and videobite sharing options
Growth tracking tools
Cons of Sounder
Free plan only allows for one podcast and only 5k streams/mo
More customizable options come with payment plan
Sounder Podcast Hosting Verdict
Sounder is an excellent tool for those who want to track their podcast's growth and discoverability. This platform places a strong emphasis on creating audio communities and connecting hosts with listeners.
Sounder's platform is a solid option for not only hosting your podcast, but also growing your audience, because it's free to use (as a feature limited plan) and has the option to upgrade to their Plus plan for a very reasonable price to unlock a tonne of useful additional tools that podcasters can leverage.
11. Libsyn: 5.00/mo
Libsyn is one of the oldest podcast hosting systems on the market, dating back to 2004. They also have one of the most affordable podcast hosting services, starting at $5.00 per month. This price point alone makes it a contender for the top podcast hosting platforms you'll come across.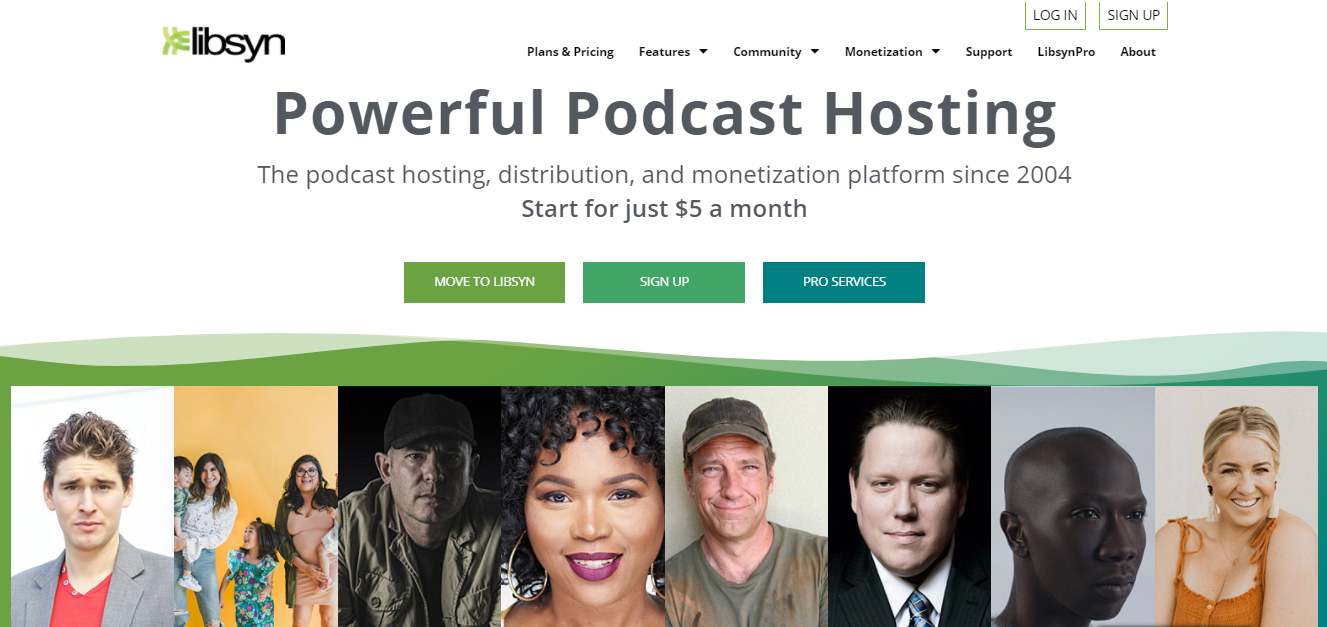 Libsyn, like Blubrry, does not have a free podcast hosting plan that you can trial before you buy. However, their paid (though still extremely affordable) podcast hosting options appeal to a wide spectrum of podcasters, including some of my personal favourites, such as Dan Carlin of Hardcore History.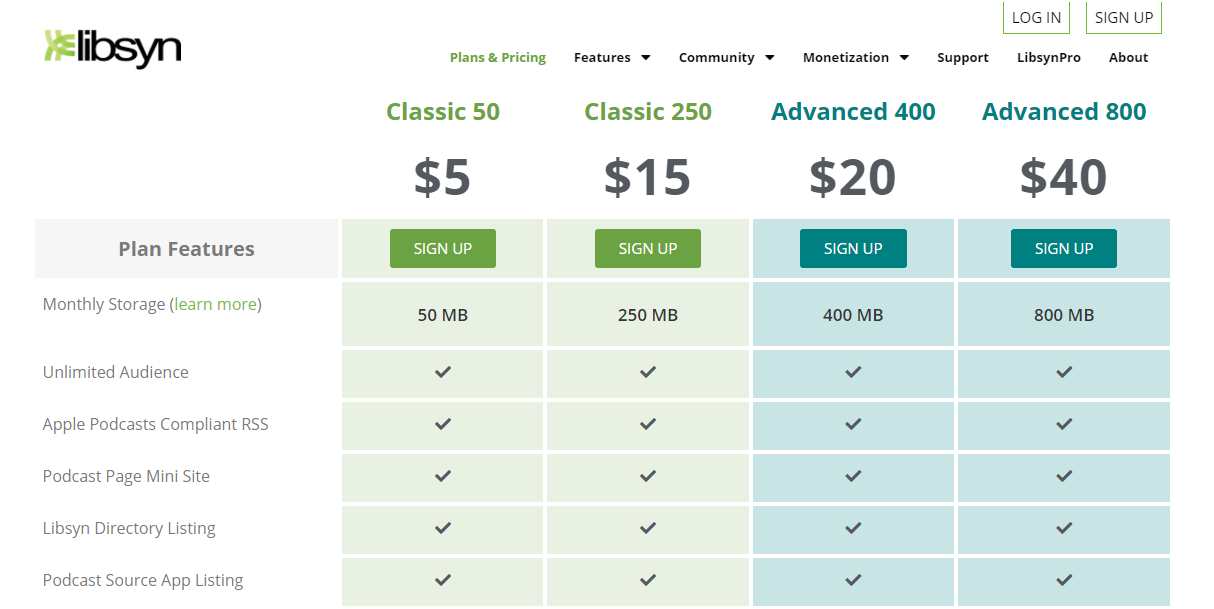 Features of Libsyn Podcast Hosting
Unlimited bandwidth
Video and audio podcasting
Episode scheduling
HTML5 media player
Customizable mobile app ($10/month extra)
Pros of Libsyn
Easy WordPress integration
Wide distribution network
Monetization opportunities
Cons of Libsyn
Limited storage
Add ons come at a cost and can quickly inflate the cost
Libsyn Podcast Hosting Verdict
Libsyn is a wonderful podcast hosting option for folks with limited capacity who don't upload a lot of content (on their lowest price plan). It could be the ideal podcast hosting platform for podcasters who understand podcast hosting and only want to pay for the things they need.
Transistor is one of the greatest podcasting platforms for individuals interested in podcasting professionally rather than as a hobby.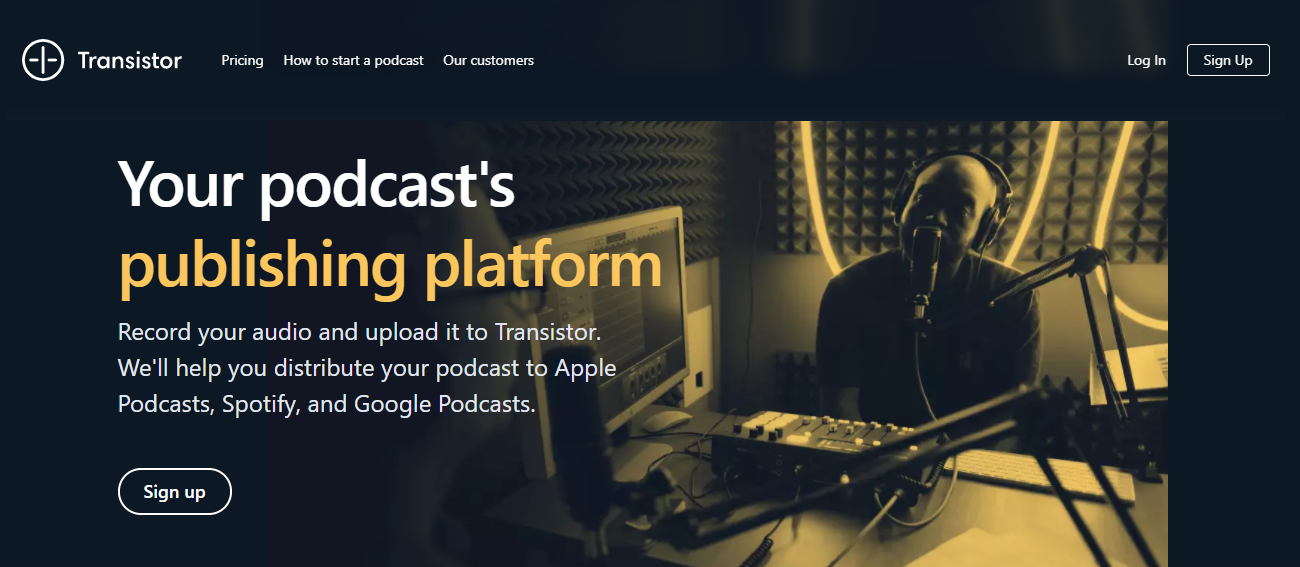 When it comes to professional-grade podcasting, Transistor is trusted by huge brands like Drift, Ionic, Laravel, and more. As you might assume, excellence comes at a cost, and Transistor's starting pricing is $19 per month.

You can try out the platform for free for 14-days if you want to check out its capabilities.
Features of Transistor Podcast Hosting
So what features are driving brands like Basecamp to switch podcast hosting platforms to Transistor? Especially since Transistor is basically in its diapers, having been launched in 2017.
Unlimited storage
Unlimited bandwidth
Global content delivery network (CDN)
Customizable podcast website
Detailed analytics
Embeddable audio player
Supports multiple users
Pros of Transistor
Integrates with MailChimp, ConvertKit, and Drip
No restrictions on the number of episodes you can upload
Built-in RSS feed generator
Powerful marketing tools
Cons of Transistor
No free plan currently offered
Transistor Podcast Hosting Verdict
Transistor is unquestionably one of the greatest podcast hosting services available. It includes everything a podcaster needs to create, publish, and promote their show. Once you get over their rather costly price tag, you've got yourself a winner. You may see all of their features and check them out right here.
Captivate is yet another newcomer to the podcast hosting scene. Despite this, it's already garnering a lot of attention, since they've assisted a number of podcasters in increasing their viewership and money.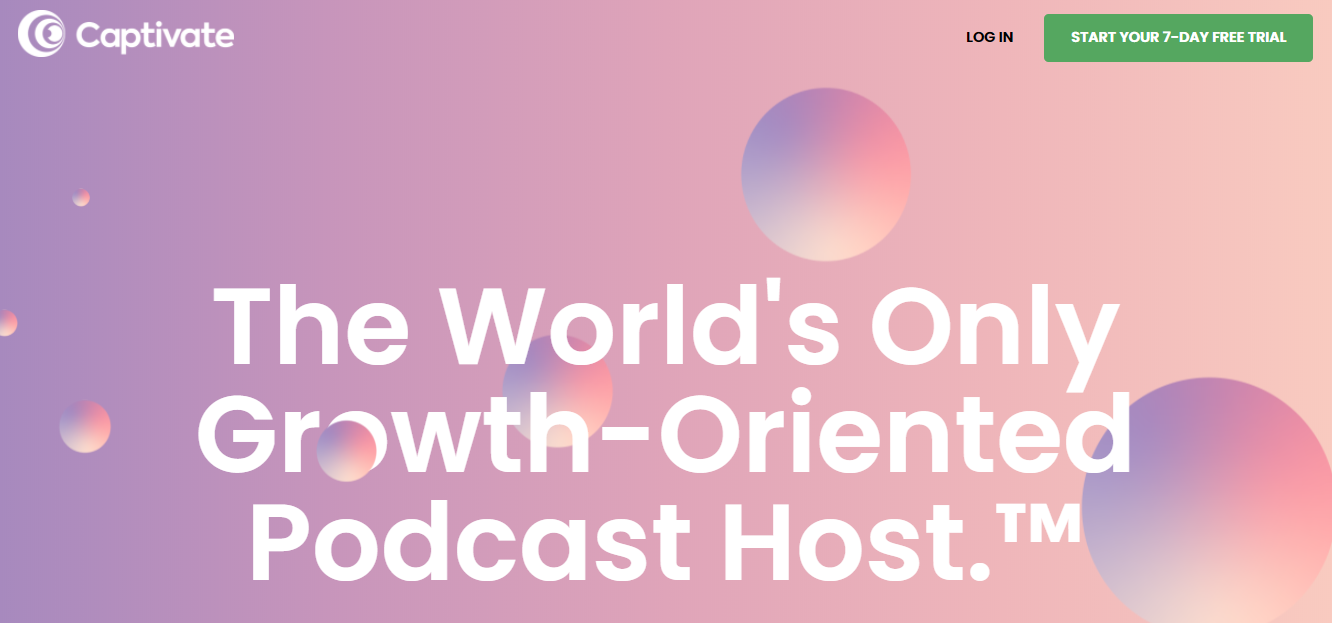 Captivate, unfortunately, does not have a free plan. However, if you want to try out their remarkable features, you may sign up for a free 7-day trial. Captivate's paid, but still affordable, podcast hosting options start at $19.00/month, so it's not the cheapest choice on the market right now.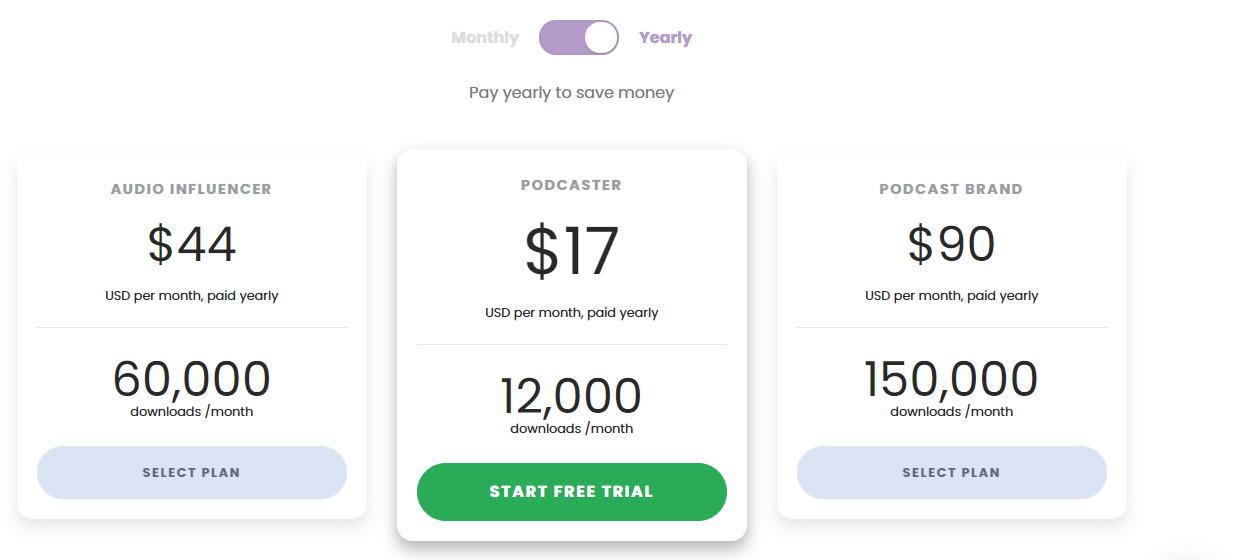 Features of Captivate Podcast Hosting
Dubbed as a growth-oriented podcast hosting platform, Captivate was designed to help independent podcasters single-handedly take their podcasts from zero to zenith. Here are some of the features that will help you do just that:
Unlimited podcasts
Unlimited team members
Powerful analytics
Batch uploading
Customizable website with built-in donation support
Built-in opt-in forms and calls-to-action to help you grow your email list
Pros of Captivate
Intuitive user interface
Guides you along every step of the publishing process
Lots of monetization options
New features constantly being rolled out
Cons of Captivate
Priced a little bit higher than other podcast hosting platforms
Captivate Podcast Hosting Verdict
Captivate is doing a lot of things right for a new child on the block. If you're a solo content creator looking for a podcast hosting platform that's both simple to use and focused on helping you build your podcast, they should be on your shopping list.
14. RSS.com: Free Plan (Limited) or $4.99/mo
RSS.com's podcast hosting alternatives boast one of the most magnificent domain names (and a long and illustrious history), as well as some of the most features and best customer support—especially for a product with a limited free plan and low costs on their inexpensive podcast hosting plans.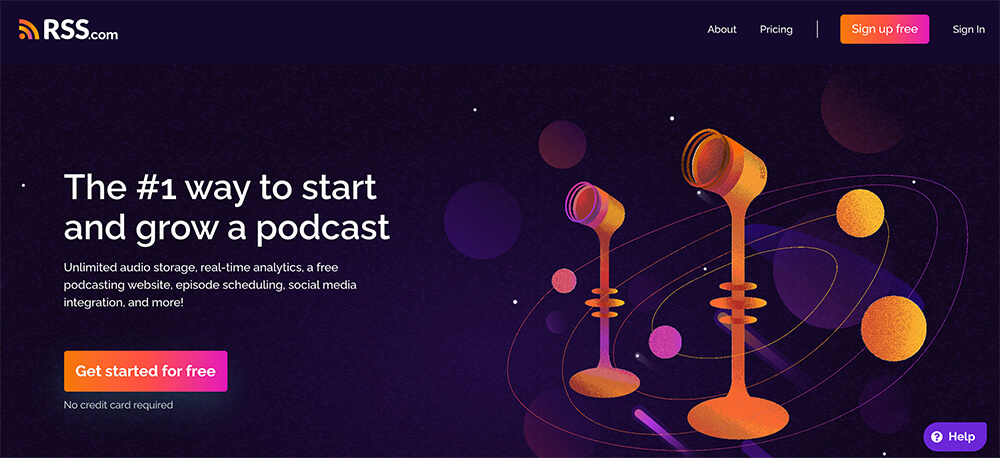 RSS.com boasts a wide range of podcast hosting features that impress, including unlimited audio storage, real-time analytics, a free podcasting website, episode scheduling, social network integration, and more.
Features of RSS.com Podcast Hosting
Easy to use interface
You can set up a new show in a matter of minutes
Unlimited episodes (and unlimited listener downloads)
World-class, cross-platform podcast analytics to gain actionable insights into your audience
Sponsorship opportunities through their partner Podcorn
Sleek, free public podcast website for your show and episodes that gets updated automatically
Episode scheduling (to publish podcast episodes in advance)
Episode player embed feature to share your episodes on your own self-hosted website
Easy 1-click social media sharing of your show and episodes on Twitter, Facebook, LinkedIn and Pinterest
Lock tags to minimize the possibility of unauthorized copies of your RSS feed
Excellent customer service and support
Pros of RSS.com
One of the most affordable podcast hosting plans on the market with access to this many features
Your show gets added to a community podcast directory on their site (for discovery and SEO benefits)
Once you publish an episode, you get automatic distribution to Spotify, Apple Podcasts, Google Podcasts, Amazon Music and every other major podcast directory
Fully compliant podcast RSS feed
Cons of RSS.com
The free podcast hosting plan only allows uploading of 1 episode (then you'll have to upgrade to a paid plan)
Monetization (via their sponsorship platform partnership) is only available on their $12.99/mo plan
RSS.com Podcast Hosting Verdict
It's no surprise that RSS.com, as veterans in the podcast hosting (and RSS feed) market, has such a powerful service at such a low pricing point. It's a no-brainer to try out their platform for your own hosting needs, especially since you can give it a complete test run on their free plan.
15. Fusebox: Free Plan (Limited) or $8.00/mo
Fusebox was developed by Pat Flynn, a prominent content creator, to fill in the gaps left by platform developers.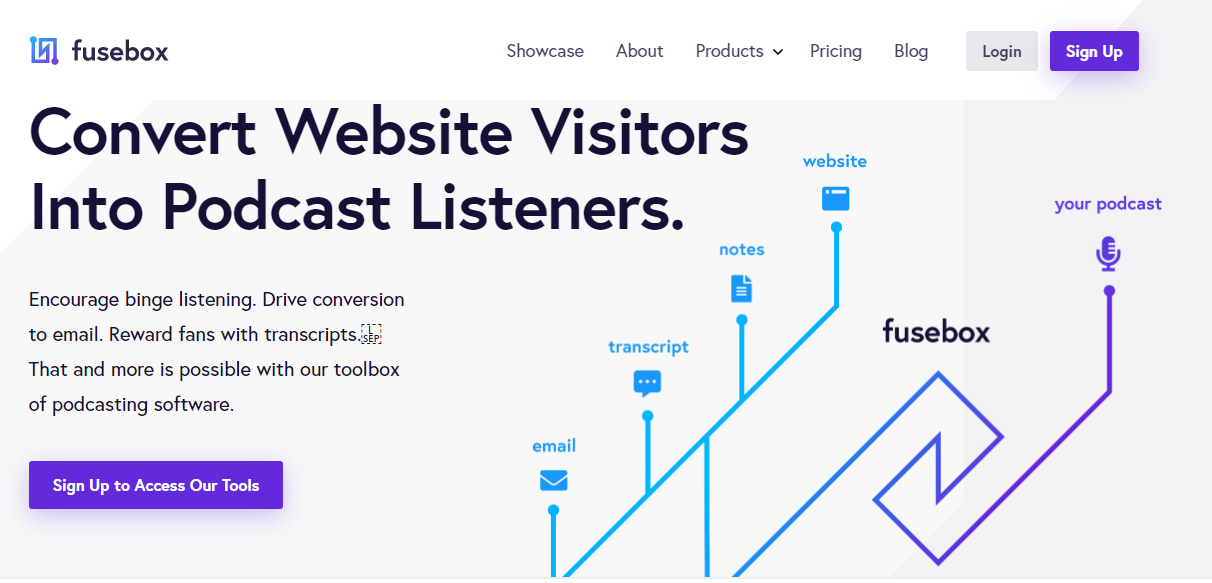 Fusebox is a WordPress plugin that allows you to publish and show your podcast on your website, unlike most of the other podcast hosting providers on our list. A restricted free version is available, as well as a $8/month membership.

Features of Fusebox Podcast Hosting
One of the main aims of Fusebox is to be a podcast player that not only plays natively on your website but one that will hook your website visitors. Here are some of the features that were built to do just that:
Email capture
Social sharing buttons
Speed control
Timestamps
Fully customizable
Pros of Fusebox
Beautiful podcast player
Host migration
Lots of marketing tools
Cons of Fusebox
Only works well with WordPress websites
Fusebox Podcast Hosting Verdict
Fusebox is a terrific option for bloggers looking for podcast hosting that integrates smoothly with their WordPress websites—and who already have enough traffic to build their following quickly.
16. Podcast Websites: $77.00/mo
Podcast websites is an all-in-one solution designed to help you succeed at podcasting.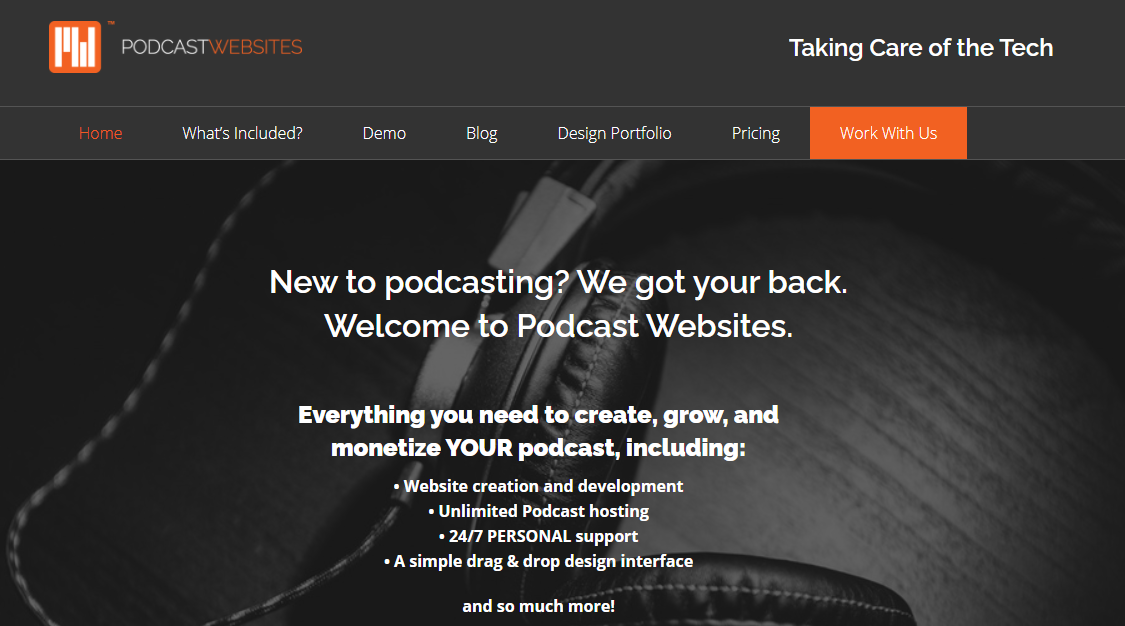 For those looking for a turnkey solution to get their podcast up and running quickly, Podcast Websites is one of the top podcast hosting platforms. This done-for-you solution, however, comes with a cost — and a costly one at that.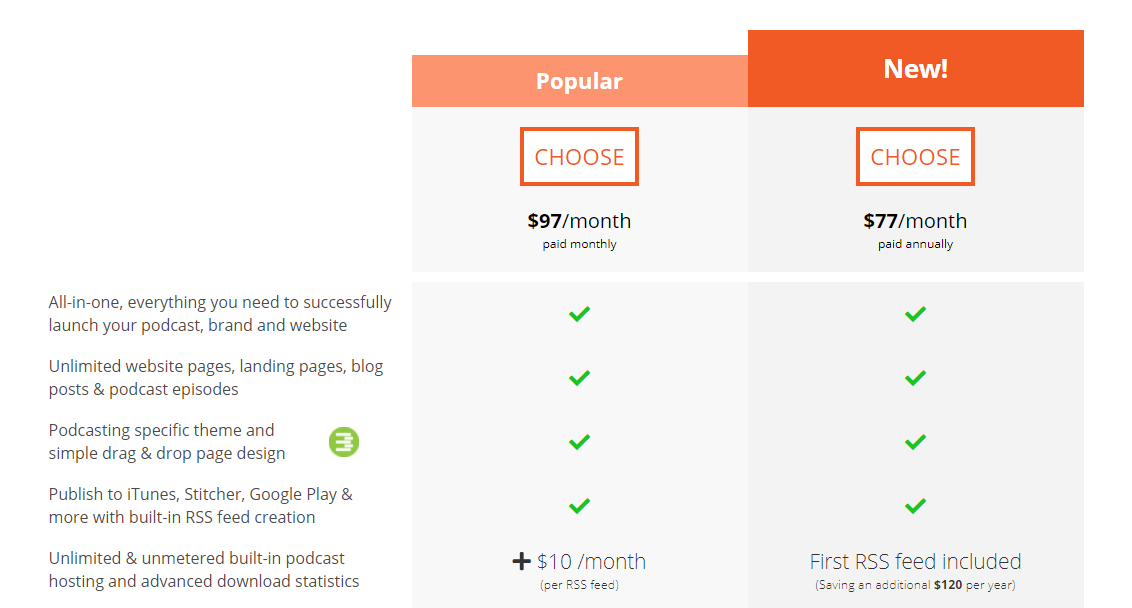 Features of Podcast Websites Podcast Hosting
Podcast Websites was designed for those who want to dive head in into podcasting as is seen by the robust feature set:
WordPress website with unlimited pages
Unlimited landing pages
Unlimited podcast episodes
Unlimited bandwidth
Daily backups
SEO tools
Pros of Podcast Websites
Launch and promotion tools
Top-notch security
All-in-one platform that gives you everything you need to create, publish, and distribute your podcasts
Cons of Podcast Websites
Pricey
You can only host one show. Additional shows incur extra charges
Podcast Websites Verdict
Podcasting Websites is not for hobbyists or people that just want to podcast for pleasure. The platform was designed for professional podcasters who want to get the most out of their efforts and take their career to new heights.
17. FeedPress: $9.94/mo
Every podcast hosting platform has an RSS feed as a standard feature. That is why FeedPress is considered one of the top podcast hosting systems.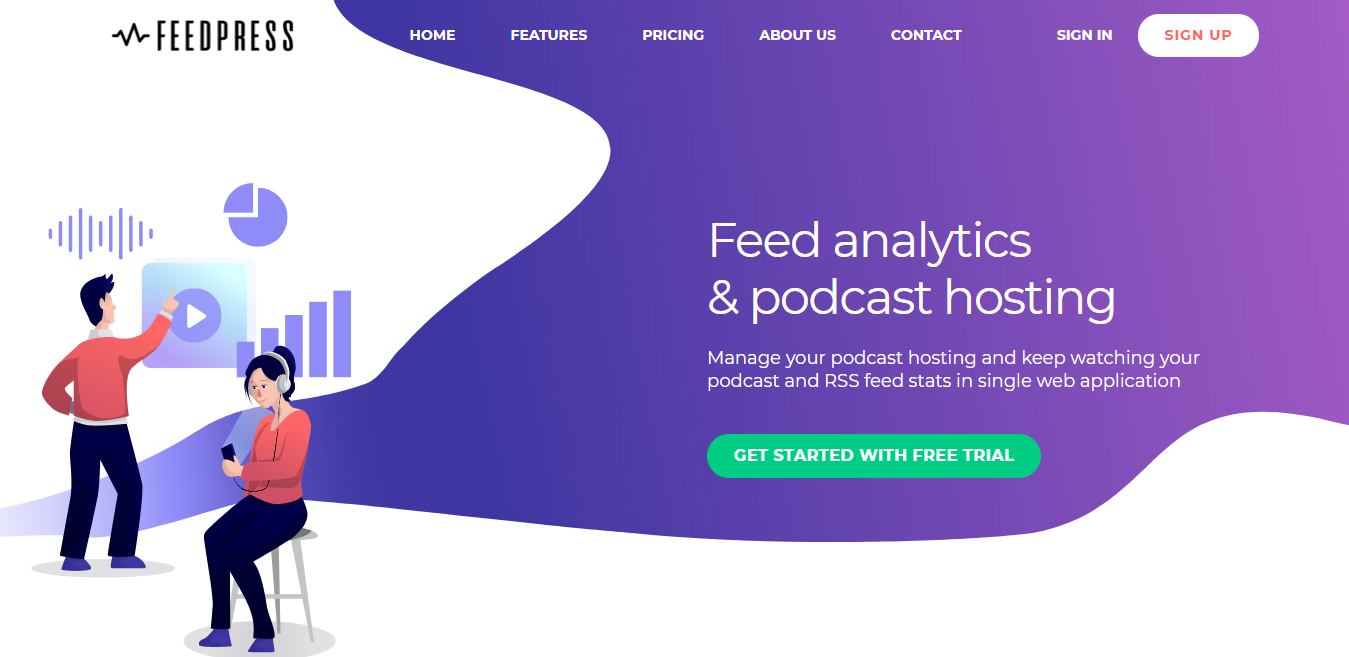 One of FeedPress's strengths, as a leader in RSS feeds, is extensive feed analytics. Feed analytics and podcast hosting are charged separately, which makes pricing a little confusing. A sliding scale is used to calculate the cost of podcast hosting.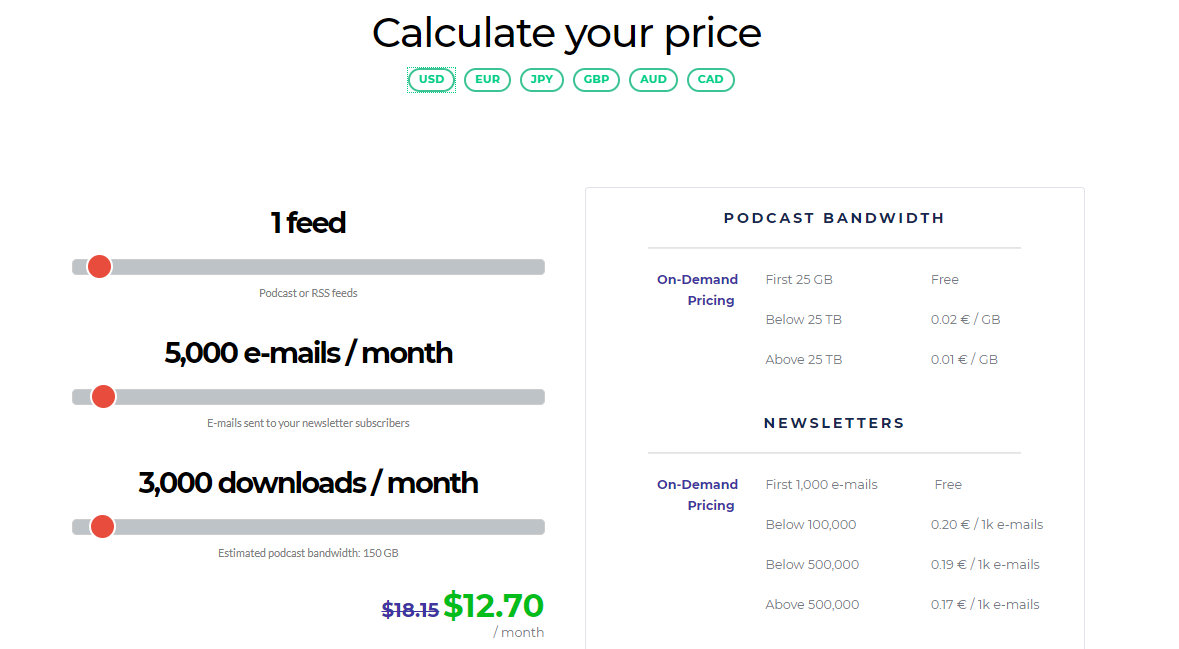 FeedPress comes with 400MB audio storage to start with the option to purchase additional storage as per requirement.
Features of FeedPress Podcast Hosting
Unlimited podcast feeds
Advanced tracking and analytics
Embedded player
RSS to email
Pros of FeedPress
Flexible file storage
Superb feed management and analytics
Cons of FeedPress
No real outstanding features
Complicated pricing structure
FeedPress Podcast Hosting Verdict
FeedPress, despite having outstanding feed administration and analytics, lacks a few important capabilities that competing platforms have. It's an excellent platform for people who are just getting started as well as those who wish to keep track of audience data.
18. Whooshkaa: $29.00/mo
Don't let the strange name fool you, Whooshkaa is no stranger to podcast hosting.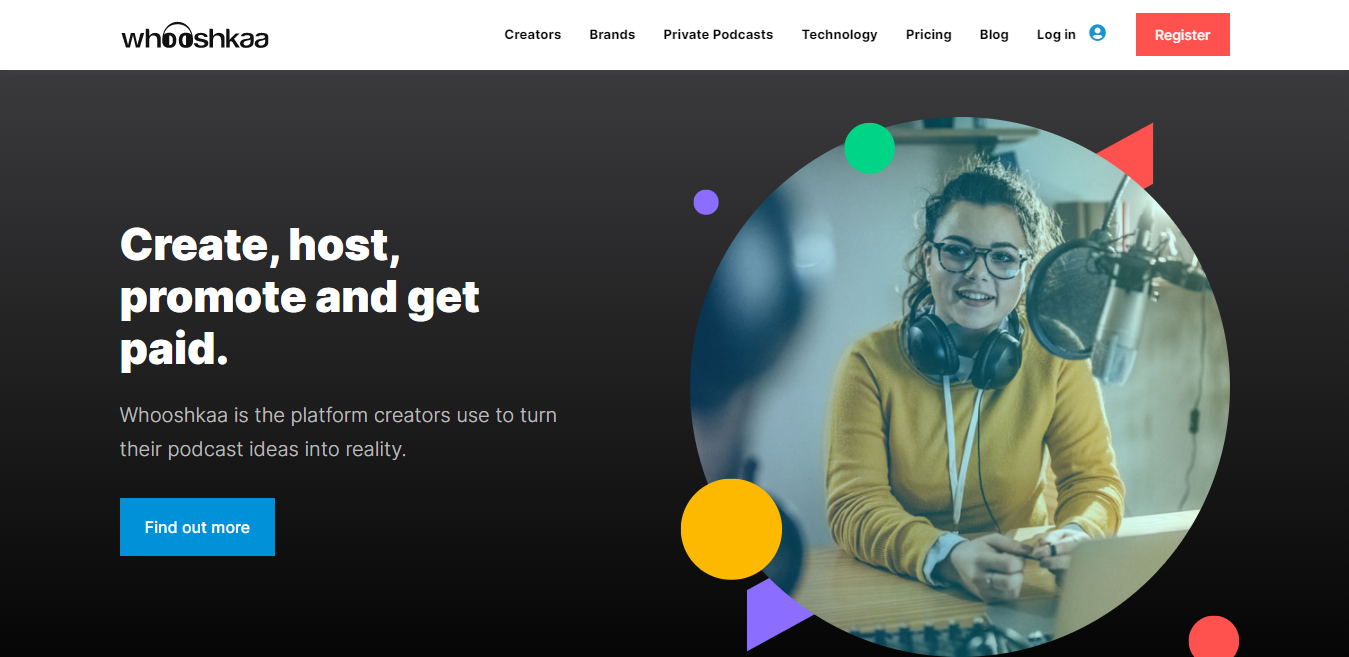 Whooshkaa, a podcast hosting platform based in Australia, makes this list of the best podcast hosting platforms due of its dynamic nature. It adapts quickly to your podcasting requirements.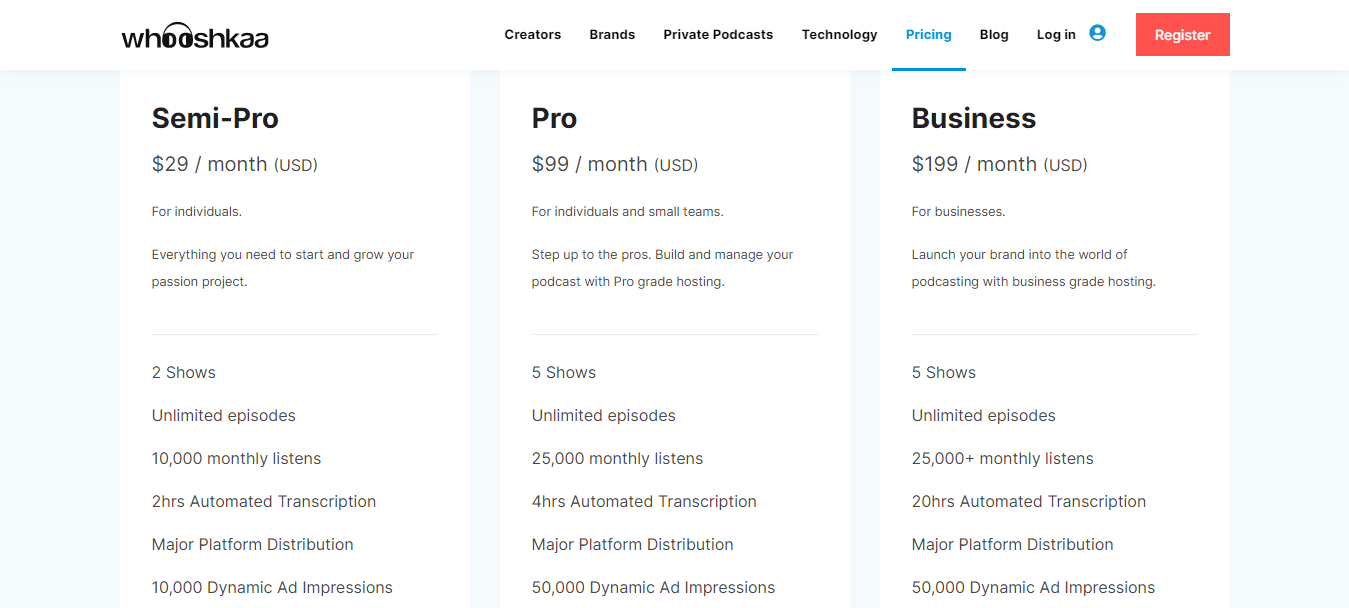 While the paid plans are more expensive than other competitors, Whoshka also offers a free plan with a lot of features. This is also where Whooshkaa shines as one of the finest podcast hosting sites, with a large 5GB of storage and 1000 ad impressions included in the free plan.
For professional podcasters, Whooshkaa is easily the greatest podcast hosting platform. The main drawback is the high price tag.
19. Podcast Garden: Free Plan (Limited) or $2.99/mo
Podcast Garden is one of the top podcast hosting sites in terms of price, albeit the design and user experience are a little rough around the edges.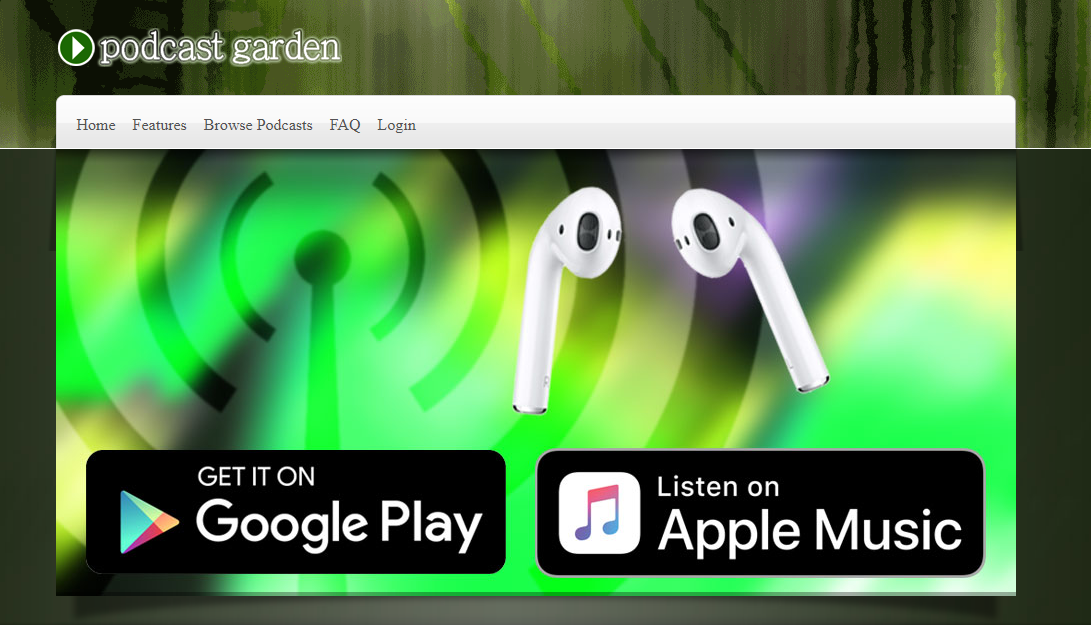 One of the things users love about this platform is its simple interface and ease of use. Even without any technical knowledge, you can quickly get up to speed on how podcasting works and produce award-winning podcasts.
Features of Podcast Garden Podcast Hosting
Free as long as you publish one episode a month, it's a great option for those still testing the podcasting waters. Upgrading to the $2.99/month plan (which is the only plan available) gives you access to more features such as:
Secure back ups of your podcast
Audio and video podcasts
Unlimited number of episodes
Unlimited bandwidth
Unlimited file storage
Pros of Podcast Garden
Beginner-friendly
Lots of features for the price
Cons of Podcast Garden
Basic analytics
The interface is a bit dated
Podcast Garden Podcast Hosting Verdict
Podcast Garden is unquestionably one of the most user-friendly podcast hosting platforms available. It's inexpensive, simple to use, and a great way to learn the basics of podcasting.
20. Audioboom: $9.99/mo
Audioboom is on my list of the best podcast hosting platforms for two reasons: they do much more than just host podcasts; they also assist podcasters in growing their following and monetizing their shows.
Audiobloom makes it easy on your budget with their basic and economical podcast hosting plans and an easy-to-use, highly straightforward platform.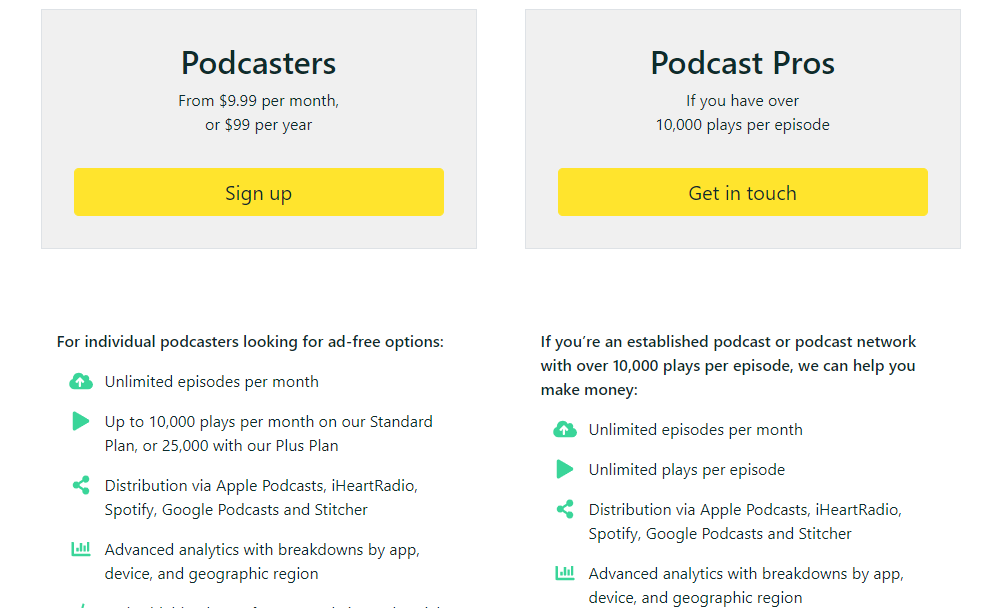 Audioboom's price structure is simple to grasp, with only two plans to choose from. The Podcasters Plan (their cheapest podcast hosting plan) costs $9.99 a month and allows for up to 10,000 plays. Once you've crossed that line, you'll need to contact Audioboom's sales team to develop a more customised plan (Podcast Pro).
The good news is that once you hit that number of monthly listeners, you'll be in a position to approach advertisers who will pay to reach your audience—and so help offset the costs of maintaining your podcast (like getting the best podcast hosting).
Features of Audioboom Podcast Hosting
Because Audioboom is dedicated to growth and monetization, their plans are packed with features to back that up:
Unlimited episode uploads per month
Advanced analytics
Sponsorship opportunities
Access to Audioboom's targeted ad-network
Embeddable players for websites and social media
Pros of Audioboom
Allows for contributor accounts
Simple and easy to use
Great distribution network
Dynamic ad insertion
Amazing value for money
Cons of Audioboom
Limitations on the number of episodes you can publish (up to 5)
High threshold of plays needed to hit Podcast Pros plan
No app
Audioboom Podcast Hosting Verdict
Audioboom is a terrific alternative for podcasters seeking for a simple podcast hosting platform with a lot of revenue potential.
21. Castos: $19.00/mo
Look no further than Castos if you're seeking for one of the top podcast hosting solutions available in terms of premium hosting plans.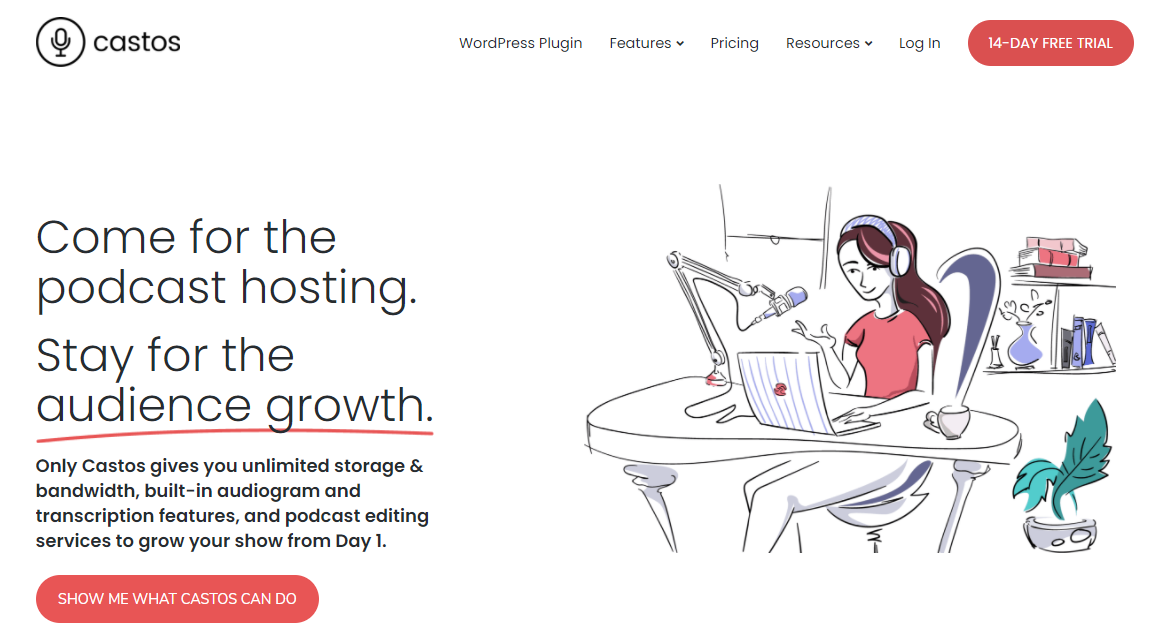 Castos makes choosing the ideal podcasting plan for you simple with flexible and easy-to-understand pricing.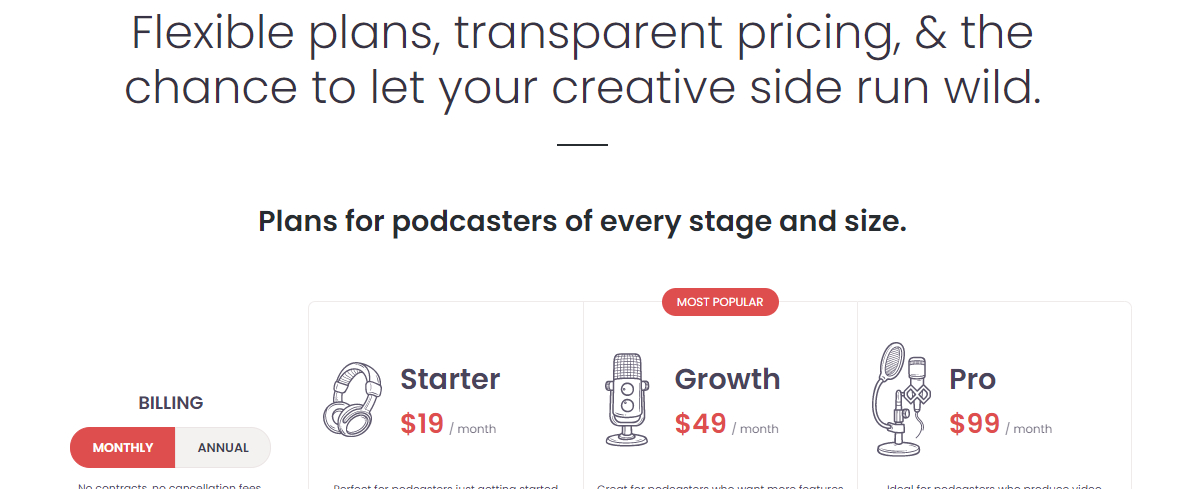 Features of Castos Podcast Hosting
No matter where you are on your podcasting journey, Castos has everything you need to grow and reach your goals—and is particularly well-suited for those that ready to take their podcasts seriously. This includes features like:
Unlimited number of podcasts
Unlimited bandwidth
Customizable podcast website
Episode transcriptions
Supports video for Growth and Pro plans
Pros of Castos
Simple and easy to use
Comes with a WordPress plugin (for embedding episode players)
Private podcasting option
Cons of Castos
No direct revenue generation options
Castos Podcast Hosting Verdict
Castos is an excellent choice among podcast hosting platforms, especially if you're ready to take your podcasting seriously—or as a platform to upgrade to once you have a little more budget to invest in their Growth or Pro plans (where you'll really unlock their most impactful features).
22. Resonate Recordings: 25.00/mo
Resonate Recordings is one of the top podcast hosting platforms available, providing a complete solution for your podcasting venture.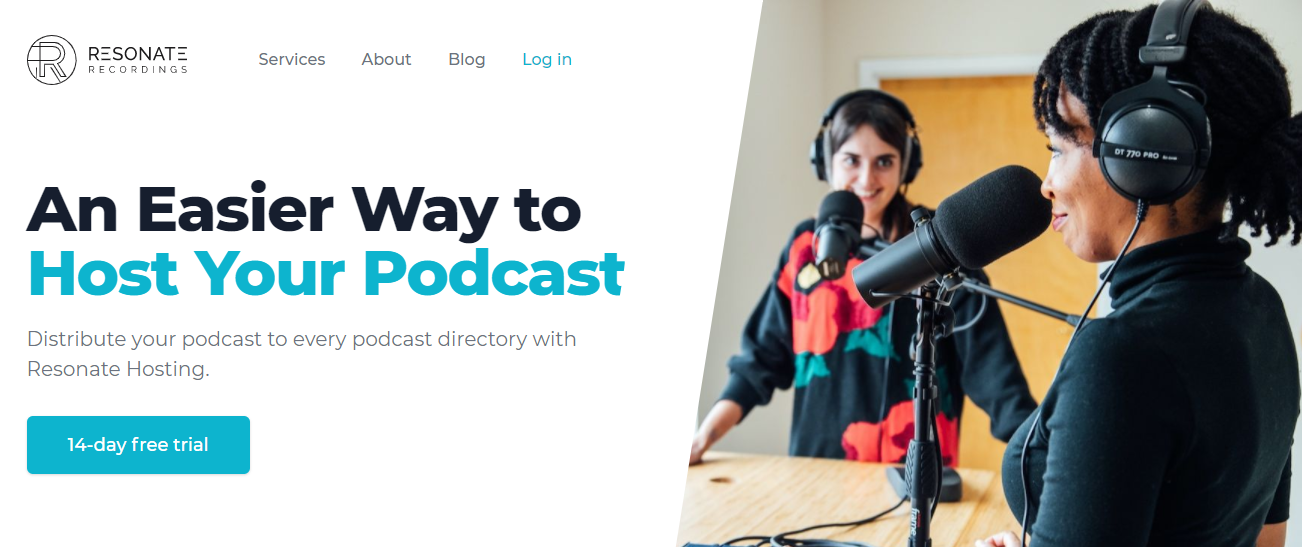 While the platform does not have a free plan, it does offer a 14-day trial if you want to try out its features. You can upgrade to their paid plans, which start at $25 per month, once the trial time is complete.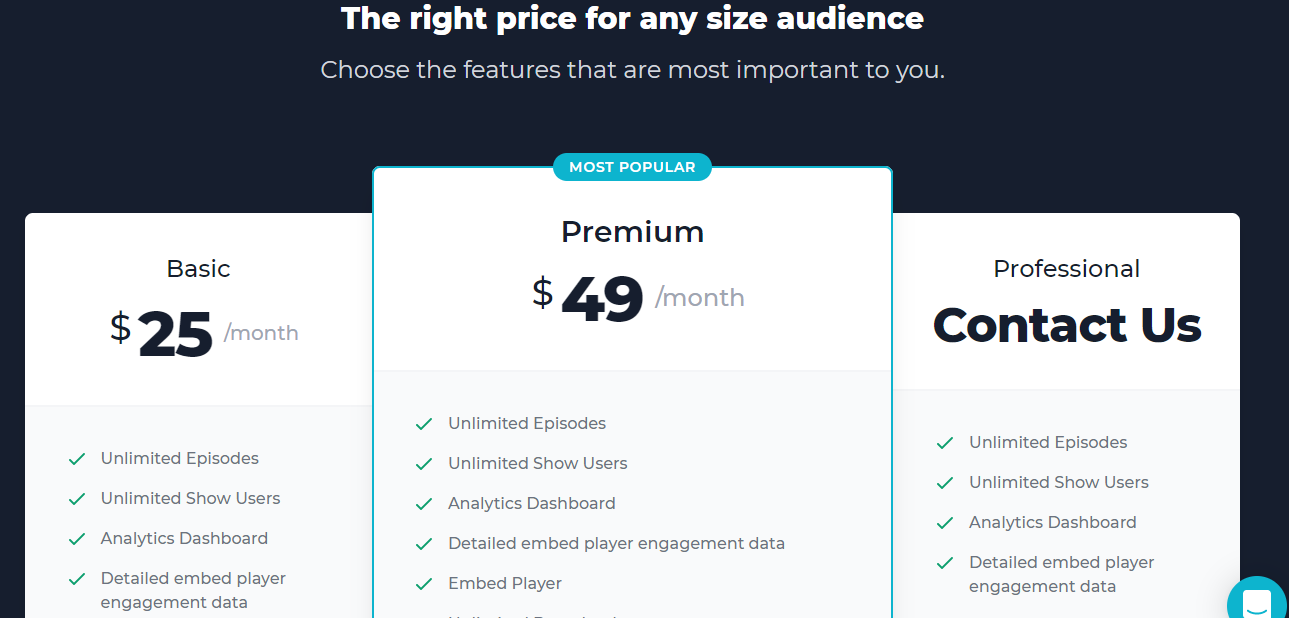 Features of Resonate Recordings Podcast Hosting
Resonate offers a solid set of features to help you launch and grow your podcast. These include:
One-click publishing
Podcast microsite
Unlimited bandwidth
Analytics dashboard with detailed insights
Embeddable podcast player
Pros of Resonate Recordings
A solid and reliable podcast hosting platform
Live chat support (phone and Slack channel support available on Professional plan)
Cons of Resonate Recordings
Pricing is somewhat restrictive compared to competitors
Resonate Recordings Podcast Hosting Verdict
Resonate Recordings should be at the top of your list of the best podcast hosting services. You can never go wrong by working with the platform because it provides reliability and exceptional service.
_____________________________________________________________________________
Disclaimer: Some of the links in this article are affiliate links that may provide me with a small commission at no cost to you. However, I have vetted every program in this guide and believe they are the best for generating affiliate revenue. You can read my full affiliate disclosure in my privacy policy.